When you combine the extreme alpine conditions and the gear you need for a day on the slopes, figuring out what to wear skiing can be a bit of an ordeal. But dressing in the proper skiing attire can be easy with a little help. Follow this step-by-step guide on how to dress for skiing and be prepared for a great day on the mountain.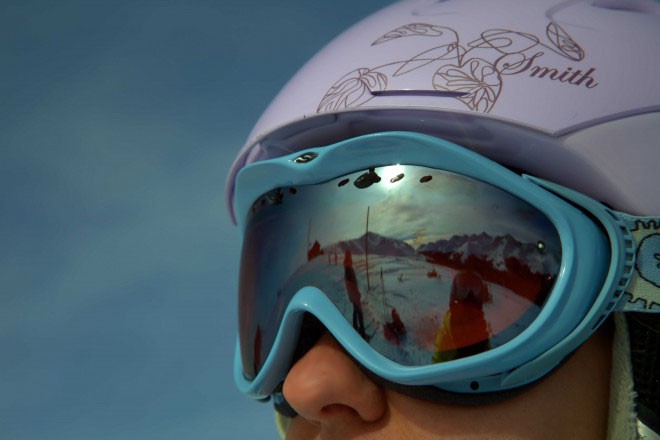 Start with your layers
The key to properly dressing for skiing is in the layers. No matter the layer, you should always avoid cotton (including denim and canvas), which doesn't dry quickly enough to maintain warmth. Here's exactly how to layer for skiing:
1.
First, put on your base layers.
You base layer top and bottoms should be made of a breathable, moisture-wicking fabric like merino wool, silk or polyester.
2.
Put on your ski socks.
Midweight merino wool or wool-blend ski socks are your best bet for all-day comfort when you're skiing. Ski socks have a little cushioning on the shin, where your leg will be resting on your ski boot. Be sure to pull them all the way up and smooth them out before putting on your ski boots. You may want to pull your base layer bottoms up above the socks to eliminate bunching in your ski boots.
3.
Add your mid-layer.
The mid-layer should also be breathable and moisture-wicking, and it acts as a source of non-bulky warmth. Try a fleece or wool pullover as a mid-layer.
4.
Next, you'll need insulated warmth and weatherproof protection
. That means either an insulating layer (like a down-insulated jacket) and a waterproof shell, or just an insulated, waterproof ski jacket and ski pants. If it's a mild, sunny day, you can skip the insulated layer all together and go with waterproof shells on the top and bottom.
Then add your ski gear
Once you have your layers worked out, you need to put on your ski gear. Here's the gear you'll need for a great day of skiing:
1.
Use sunscreen on your face and Chapstick on your lips before adding your other ski gear
. The dry, cold mountain air and strong sunlight will wreak havoc on your skin if you don't.
2.
Then, put on a neck gaiter or balaclava.
These are especially important in cold, windy conditions. They'll protect your neck and chin from frigid air.
3.
Add your ski helmet.
Whether you're just starting out or consider yourself a seasoned pro, you need to wear a helmet when you go skiing.
A ski helmet not only protects your head from impact, but it also provides warmth. If you don't own one, you can usually rent a helmet at the same place you rent your skis, poles and ski boots.
4.
Fit your ski goggles over your helmet.
Ski goggles cut glare and enhance optical clarity. If you don't have ski goggles and don't want to get them, polarized sunglasses can work, too. However, ski goggles are ideal because they're designed to optimize your vision on the snow, and they protect your eyes and face from the elements, as well.
5.
Now it's time to put on your ski boots.
This can be harder than it sounds -- that's why we have
a whole blog post devoted to it.
The key to getting your ski boots on is getting the boot as loose as possible in order to slide your foot into it. Unbuckle all the buckles and undo the straps before putting your foot inside.
6.
Now you can put on your mittens or gloves.
Choose insulated, waterproof gloves or mittens with a leather or rubberized grip for skiing. You can add glove liners for another layer of moisture-wicking warmth, too.
7.
Last, step into your skis.
Line up your toe under the front of the ski bindings and then push your heel down until it clicks into the back of the ski bindings. Once both of your boots are secured in your ski bindings, you're ready to ski!
Check out the video below for a visual checklist of what to wear skiing.