Snowshoeing is one of the fastest growing snow sports in the country, and for good reason. It offers a fun, easy, versatile and easily accessible way to enjoy the great outdoors in the winter. All you need for a day of snowshoeing is some snow-covered terrain, your warm, waterproof outerwear and a pair of snowshoes. While many will say "if you can walk, you can snowshoe," it's also true that there are quite a few techniques you should know in order to get the most out of your snowshoeing adventure.
How to Snowshoe
To best understand how to snowshoe, you'll not only need to know specific techniques on keeping your balance and approaching hilly terrain, but how to get started in the sport, too. From choosing snowshoes to hiking up a steep hill, I'll break it all down here.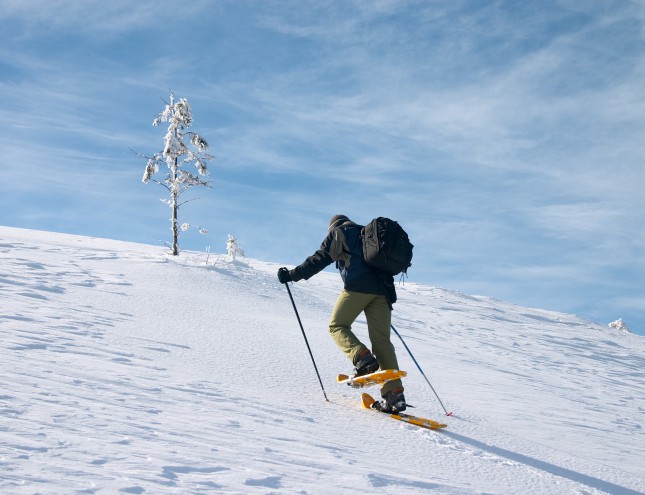 Tips for getting started
1. Before you head out to the nearest park or trailhead, be sure to get properly sized snowshoes. There's a trick to
choosing the right snowshoes
; luckily, we've already got a ton of resources that will guide you through the process. For a quick reference, check out this sizing chart: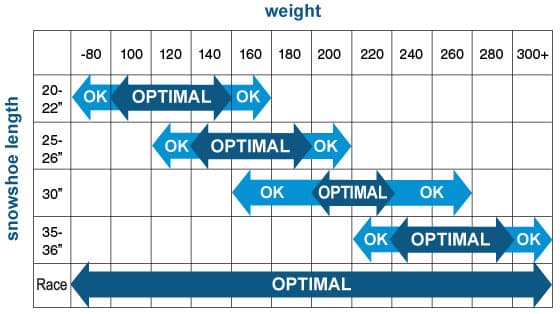 2. Use
trekking poles
(with snow baskets) or
ski pole

s
to provide stability and support during long hikes and more technical terrain.
3. Layer up!
Dress for the cold and snow
, with breathable layers that you can remove when you work up a sweat, and waterproof outerwear that keeps you dry in the snow. Gloves and a hat are a must, too.
4. Waterproof, insulated and comfortable boots or hiking boots are best for snowshoeing. Hiking boots are often best for long snowshoe hikes because they offer the most support and hiking-specific performance.
5. Get your snowshoe bindings comfortably adjusted by placing the ball of your foot over the top of the hinges. Tighten the front strap, then the heel strap, and finally the instep strap. Adjust straps to fit snuggly, but don't make them too tight.
6. If it's your first time snowshoeing, start on hard-pack snow. Fresh powder is more difficult to maneuver in.
7. Over-prepare for your snowshoe hike; bring extra water, food, supplies and an up-to-date trail map.
How to keep your balance on snowshoes
1.
Staying upright:
If you're snowshoeing on packed snow, staying upright and moving forward isn't too difficult. However, you do need to walk with a wider stance than you usually would to allow room for your wide snowshoes. When snowshoeing on deep powder, though, you will need to lift your knees higher than you normally would to prevent tripping.
2.
Turning:
When you're wearing snowshoes, turning around can feel a bit awkward at first. Making a turn on snowshoes requires you to be mindful of your big snowshoes, and the snow you're on. To avoid tripping, be sure to lift your knee high before turning your foot in the direction you'd like to go.
3.
Traversing, or "side-hilling":
You can avoid steep ascents and rugged terrain by traversing the side of a hill, but it can be hard to maintain balance. To keep your balance, dig the uphill-facing side of the snowshoes into the snow and keep your weight on the uphill foot. If you have adjustable poles, extend your downhill pole and shorten your uphill pole to provide stability.
How to go uphill and downhill on snowshoes
1.
Going uphill:
There are a few techniques that you can use to go uphill on snowshoes.


The first thing to keep in mind when going uphill on snowshoes is to use your instep and/or toe crampons to your full advantage, especially on packed or icy snow. Digging your crampons into the snow provides the traction you need to ascend hills.


You'll also want to have poles for trails with hills, because they provide the support you need to move upwards.


Going uphill on powder can be particularly challenging. To ascend in powder conditions, you'll essentially need to make your own steps. It's easier than it sounds, though; use the "kick-step" technique to kick ridges, or little steps, into the snow with your toe, and then use them as stairs to go up the hill.


For long ascents or steep hills, flip up the "climbing bar" or "heel lift" feature. Most snowshoes have this feature, and its purpose is to lift your heel up for more comfortable ascents.


2.
Going Downhill:
There's also a few techniques to choose from when going downhill on snowshoes. No matter how you're descending, try to keep your knees relaxed and slightly bent, and plant your foot heel-first.


If the heels of your snowshoes have angled crampons, lean back slightly as you go down the hill, and allow the crampons to dig into the snow to provide traction.


If your snowshoes don't have crampons on the heel, try to keep your weight over your feet so you don't fall backward.


Take small steps forward to avoid falling. If you feel yourself slipping, try to sit down to avoid a bad fall.


You've read all about the tips and techniques, so now it's time to get out there. Enjoy your first time snowshoeing; let us know how it goes! If you have any more questions or need more support, check out our comprehensive
snowshoe guide
.