'Tis that time of year to start looking at our ski gear for the upcoming season to see
if we need to replace or repair
any gear from last year. In the old days, my dad would have slapped an extra-long piece of Duct Tape on any rip or tear on our ski jackets or snow pants and proclaimed with glee: "Fixed!"
Today, there may be more sophisticated ways to manage an issue with our gear, however it also may be time to hang up the sewing-kit and decide to head out to buy a new jacket and pant. Here's what I look for in ski jackets and pants with the "expertise" of skiing since I was two years old and also twelve years of getting my own kids out on the slopes.
What to look for in Ski Jackets: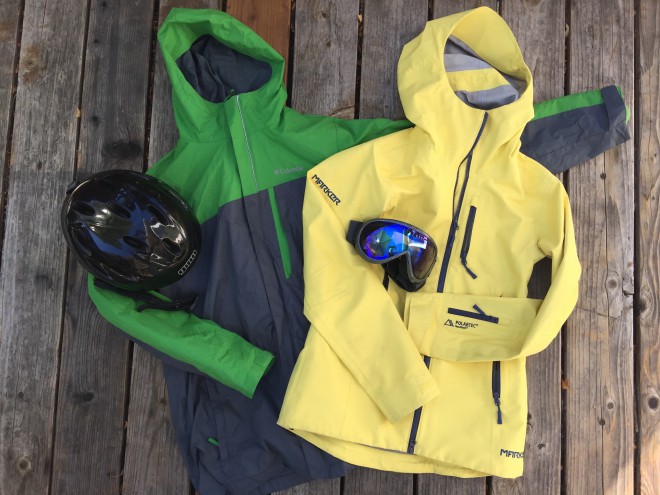 1 - Waterproof/Breathable/Wind Resistant technology:
You want to keep out the snow, sleet and hail that's coming down on you. At the same time you want to allow the vapors from the sweat you build up while skiing to escape. I LOVE having zippers in the armpit areas to allow for maximum temperature and breathability regulation.
2 - Warmth: You either want to look for a full parka with insulation (especially for those super-cold days) or a shell to use as your outer layer only and then build other layers underneath it.
3 - Hood
big enough to go over ski helmet for protection and warmth.
4 - Pockets on the outside
for ski pass and frequently used accessories like lip balm, etc.
5 - Pockets on the inside
to put and protect valuable accessories like phone, etc.
6 - Powder Skirt
inside that has an elastic and snap to keep the deep powder you're enjoying from finding its way up and into your torso and, worst, onto your bare stomach. Brrrrr.
7 - Comfortable movement:
Can you move your arms once you have all your gear on?
What to look for in Snow Pants: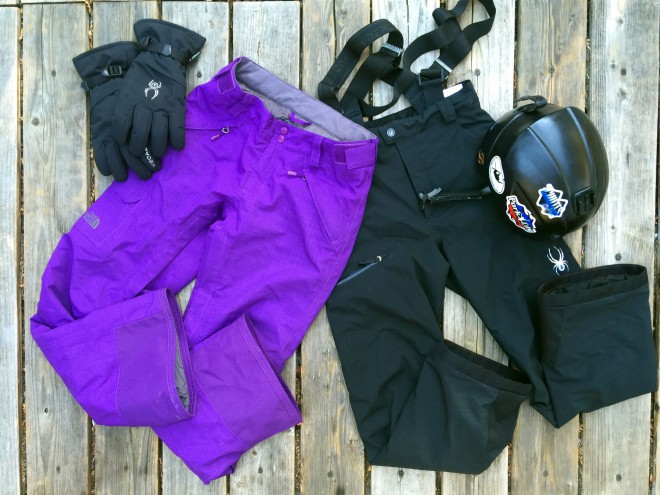 1 - To bib or not to bib:
Bibs keep more snow out and are warmer for the core. No-bibs are easier to use the restroom with. Some people use suspenders with no-bibs. Jury is still out on that one in our household.
2 - Length:
Make sure the ski pant is long enough to cover the top part of your ski boot so it keeps snow out.
3 - Warmth:
Either insulated pants for warmer legs or shell-only pants for layering and more flexibility with outdoor temperature changes.
4 - Waterproof/Breathability/Wind Resistant technology:
As with the ski jacket, this technology helps keep the wet weather out while not having your legs turn into a sweat swamp by also allowing breathability.
5 - Zipper and snap that stay closed!
Which means the pants fit properly. Make sure you can squat and bend completely without the fly of your snow pants popping open.
6 - Extra pants pockets
are nice but they don't add much function.
7 - Inner-liner
near the bottom of the leg to keep snow and moisture out of the ski boot.
8 - Comfortable movement
in general. If you feel like a sausage and you can't bend, squat, kick and roll around comfortably, keep looking for a better style for your body type.
Most importantly, make sure both pieces help you feel secure with their functionality and get you psyched to get out and tear up the mountain. It's going to be a great season!