Planning a ski vacation is a fun way to get away during the winter, whether it's for a week or just for the day. Having the right gear before you go is crucial to having a good trip, so make sure you read this ski packing list before you head out.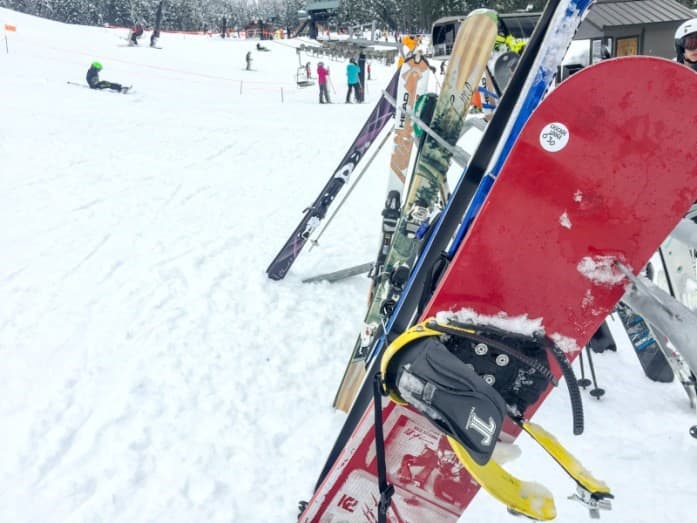 Base layers
When you're planning on being outdoors in cold weather, the best way to stay warm is by keeping your core warm.
Long underwear and other base layers
are tight-fitting yet breathable, so they cover the majority of your body and also keep your body heat in. Look for base layers that are quick-drying so you won't be damp when you start sweating later in the day.
Wool socks
If your feet are frozen, your skis won't be going anywhere. Protect your feet with
wool socks
to keep your warm all day long. Ones that are specifically
designed for skiing
are best, as they're made to be breathable and have extra cushioning at the shin.
Waterproof pants & jacket
Gone are the days of wearing jeans when you ski (or at least they should be!). No matter if you're a beginner who constantly falls or have improved your skills, you only want your outer layer to be fully waterproof. If it starts to snow or you do fall down and moisture gets on your
jacket and pants
, you want to make sure it doesn't absorb. Cotton gets wet fast and stays wet for a long time, so avoid it.
Waterproof gloves
Just the same as waterproof pants and jackets, you want something on your hand that doesn't absorb water. You won't be up on the mountain very long if your fingers start to freeze. Get
gloves that are waterproof and warm
on the inside.
Hat
You can lose a ton of heat through your head, so wearing a
warm ski hat
will help prevent that. Make sure the hat fits your whole head and over your ears.
Face mask/neck warmer
This won't always be necessary, but it's good to pack in case you're in extreme conditions. When you go somewhere that's very cold and very windy, you can develop wind burn, which can be painful. The
face mask and neck warmer
will also give you an added layer of warmth.
Helmet
A
ski helmet
is a must, whether you're a beginner or consider yourself an expert. This essential piece of safety gear protects your noggin and works to keep your head warm. Win-win!
Goggles
If possible, have two types of goggles with you: a clear pair and a tinted pair. Clear goggles will help you if you're skiing at the end of the day or at night, while tinted goggles will protect you from the sun's glare off the bright snow. Many
snow sport goggles
come with an interchangeable lens so you're prepared for different light conditions.
Well-fitting boots
Besides wearing the right clothing, having a
pair of boots
that fit correctly is the second most important aspect of skiing. If your boots are too big, you'll be sliding around in them and risk getting injured. If they're too small, your feet will be painfully pinched all day long. Have a professional size them up for you to make sure they're well-fitting.
And check out these tips on how to put on ski boots without working up a sweat.
Ski Poles
Not every skier uses
poles
as heavily as others do, but they're good to have on hand. Get them fitted so they're the proper height for your body.
Skis
While you're getting your boots and poles fitted, you should also have your skis fitted. The fit will depend on your height and weight, and the style of ski will depend on what level skier you are. Take a look at
Sierra Trading Post's Alpine skiing buying
guide for more information.
Sun protection
Just because you're high up in the mountains doesn't mean you can't get burned. In fact, you're more likely to burn because you are closer to the sun and that sun is reflecting off the snow. Always wear sunscreen and lip balm with SPF, and reapply as necessary.
Small backpack
Having a small backpack on you, like a
Camelbak
, will ensure you have everything you need on hand. You can store your water in there to stay hydrated, as well as other essentials such as sunscreen, snacks, and keys.

Now that you know what to pack watch this video on how to pack everything you need in one bag: