Ski resorts are the perfect escape into the mountains for some snowy fun. But this type of mountain adventure isn't exactly crowd-free. Sharing the slopes isn't an impossible task. If everyone follows some basic ski resort etiquette, the slopes can be fun and safe for everyone.
10 Golden Rules to Follow at Ski Resorts
1. Communicate Meet-Up Points with Your Group
If you're skiing with a group, communicate when and where to meet for breaks, lunch or leaving the ski resort. Cell phone service isn't always available on the mountain, so communicating meet-up points right away will allow you to spend more time skiing and less time searching for missing parties.
2. Wait for Your Group Outside of the Lift Line
If you want to ride the chairlift with someone special, wait for this person before entering the lift line. No one likes a cutter; don't make your friend skip people in the line to catch up to you.
3. Pay Attention to the Lift Line Merge
Just like traffic, lift lines can be complicated. But if you pay attention they are really quite simple. Wait your turn and be prepared to move when you have the right-of-way.
4. Don't be Afraid of Strangers
Chairlifts and gondolas aren't meant to be private ride services. Sometimes you will ride to the top of the mountain with someone you don't know, and that's OK. Make room for strangers and be considerate of them on the ride. For example, you might need to adjust your language if a child becomes part of your chairlift crew.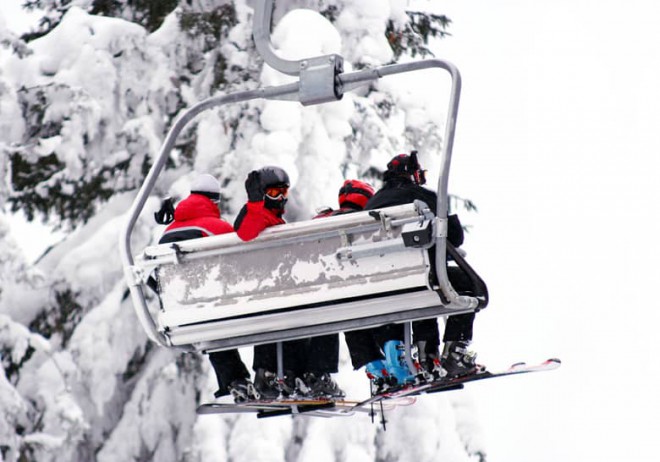 5. Stick to Your Ability Level -- and Let Your Friends Stick to Theirs
Struggling to keep up with the group isn't fun, and neither is only skiing runs you consider too easy. If you and your friends have different skiing experience levels, consider doing a few runs together and then splitting up. There's nothing wrong with meeting at the chairlift or even going to completely different parts of the mountain and meeting for lunch. It's more important to make sure everyone is having fun and staying safe.
6. Be Predictable
At ski resorts, being predictable isn't boring at all. It is something that is very much desired and will keep everyone safe. Staying consistent with your carving pattern will allow faster skiers to pass without the risk of a collision.
7. Take Breaks Where You're Visible
Some runs are really long. If you feel like you need a break before reaching the end, take one! Just be sure you are out of the way and in a visible area. Often runs plateau before continuing a steep descend. This plateau is the perfect place to rest because you are in the line of site for skiers and snowboarders above you. You should also try to stay on the outside of the run, especially if you need to stop where you aren't easy to spot.
8. Be Aware of Your Surroundings
Many falls and collisions at ski resorts can be avoided if everyone pays attention to their surroundings. Sometimes runs merge. Some areas are designated as slow zones. Watch for signs and make note of your surroundings. In areas where runs narrow, such as on catwalks, stick to the side so others can pass while maintaining their speed. Staying alert can help make the mountain safer and more enjoyable for everyone.
9. Share the Lodge
Lodges at ski resorts are incredibly busy. It can be hard to find a seat, so keep this in mind when attempting to save spots for friends. It's considered rude to spread gear across a table to secure seats. Large groups might need to split up. Consider saving seats for one or two friends by buying beer or putting cups of water in their spots. Bonus? Your friends are greeted with a much-needed beverage.
10. Assist with Yard Sales
When a skier falls and loses poles and skis in the process, this is considered a yard sale. Anyone who's ever had this happen to them knows walking up the mountain to retrieve their gear is no fun. If you are near someone who yard sales and can easily grab some of their strewn items, take a minute to lend them a hand. Hopefully someone would do the same for you.
What would you add to this list to ensure a safe, enjoyable day at a ski resort? Let us know in the comments!
Gear up for Skiing
Alpine Skis
Ski Boots
Ski Helmets
Ski Goggles