Fall is one of the most beautiful times of year in Wyoming, and traveling throughout the Wyoming State Parks can reveal an abundance of color. Here are some of our top picks and a few tips to ensure prime viewing in Wyoming parks.
Before heading out for a scenic drive, check local weather and news to find out when the colors are peaking. Peak foliage is highly dependent on weather conditions. It takes clear sunny days with temperatures no warmer than the mid 60s and cooler nights with temperatures no higher than the high 30s to mid 40s. In Wyoming, this typically happens late September in higher elevations, and early October in lower elevations.
When a color peak is about to occur, a few warm cloudy days will slow that turn. Conversely, a hard frost can damage the color because of accelerated chemical reactions within the leaves. Cool days and nights and plenty of sunshine are key.
Edness Kimball Wilkins Park
Edness Kimball Wilkins (EKW) Park, just East of Casper, is a serene day-use park for families, nature lovers and those looking for solitude. Massive cottonwoods, as they cast reflections on the historic North Platte River, turn yellow and orange at their peak.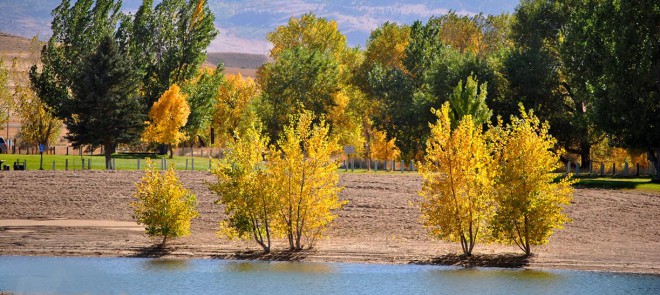 The North Platte River provides a natural habitat for a variety of wildlife and for fishing, canoeing and rafting. A key point to remember is that you'll see understory foliage as well as canopy foliage. The most beautiful colors occur in the understory, usually no more than a few feet off the ground or near the river bed.
The 2.8 miles of accessible hard-surfaced paths provide an eyeful of color while visitors observe some of the finest wildlife in the area. Bird watching enthusiasts can spend hours searching for yellow warblers, cedar waxwings, downy woodpeckers, and dozens of other species.
Hot Springs State Park
Hot Springs State Park, located in Thermopolis, is another wondrous park in the fall. Colorful terraces along the Big Horn River are fed from mineral hot springs that flow over them, leaving rust, tan and cream-colored deposits. In addition, there are over 26 different species of trees and shrubs throughout the park and 6.2 miles of universally accessible trails and hiking trails. It is a full-service park with comfort stations, a Volksmarch trail, fishing and a boat docks. Visitors can take advantage of the free bath house where the water is maintained at 104 degrees for therapeutic soaking.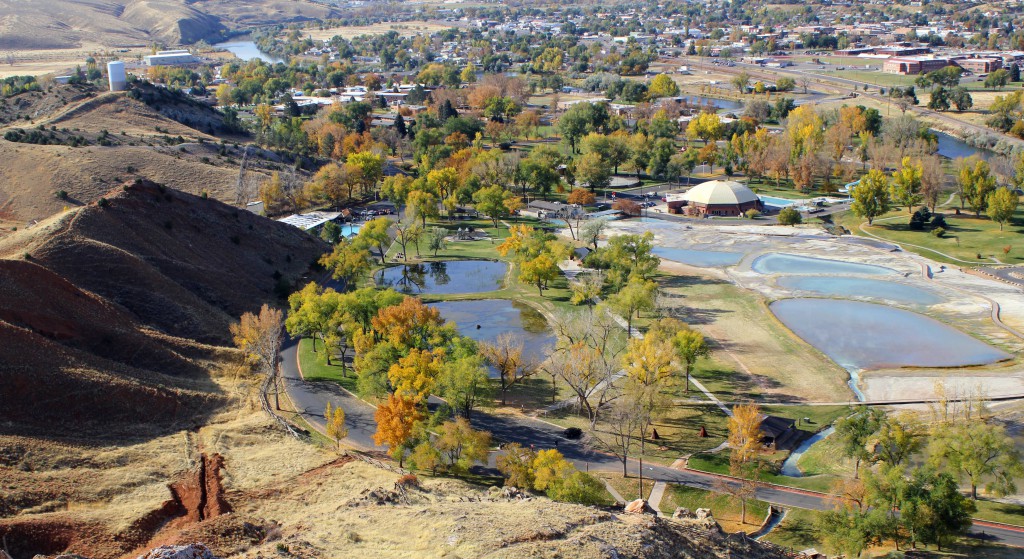 The Hot Springs State Park bison herd is the central herd for Wyoming State Parks. During the late fall and winter months, the park bison are fed a daily supplement to ensure good health. This feeding usually occurs at 8:30 a.m., giving the off-season visitor the unique opportunity to view the "Monarch of the Plains," up close. Please remember to follow park rules and that bison should be viewed ONLY from the safety of inside your vehicle.
The suspension bridge across the Bighorn River is commonly called The Swinging Bridge. The bridge offers a unique vantage point from which to view the Bighorn River and mineral terrace. Hot Springs State Park has long been known for its beautiful summer flower gardens and fall foliage. Make a point of bringing your camera to capture the exciting splashes of color.
Sinks Canyon State Park
Sinks Canyon State Park, near Lander, tops off our list. This rugged canyon features a geologic phenomenon in which the Popo Agie River vanishes into a large cavern (the Sinks) but reappears in a trout-filled pool (the Rise) about half a mile down the canyon.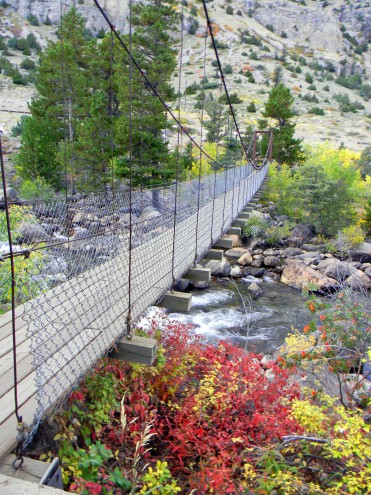 The canyon is part of a magnificent
ecosystem
that stretches from the sagebrush- and juniper-covered foothills through conifer forests and aspen meadows to alpine habitat at timberland, providing an array of colors in every hue imaginable.
You get more than just pretty colors at Sinks Canyon State parks; a visitor center features wildlife and recreation exhibits, viewing sites and interpretive signs about wildlife and habitat requirements. The park also contains hiking trails and offers camping, picnicking, rock climbing and fishing. Sinks Canyon is home to a wide variety of wildlife, birds and plants. Visitors might see porcupines, black bears, red squirrels, bighorn sheep, mule deer, moose or golden eagles.
For more information on all Wyoming State Parks, visit
www.wyoparks.org