You might have a portion of your closet dedicated to shoes for every occasion, but deciding which to pack for an upcoming vacation can be a cumbersome task. When it comes to choosing travel shoes, it's important to be practical. Consider your destination and make an effort to only pack necessary footwear.
One simple way to think about travel footwear is with the "wear one, pack one" technique. If you have limited packing space, limit yourself to only one pair of shoes aside from the ones on your feet.
Comfortable sneakers, casual sandals and sport sandals are all excellent choices for travel shoes due to their comfort and versatility. We break down the wear one, pack one travel shoe technique based where you're headed.
Outdoor Excursion
If you're camping, backpacking or visiting a national park, having the proper footwear is extremely important.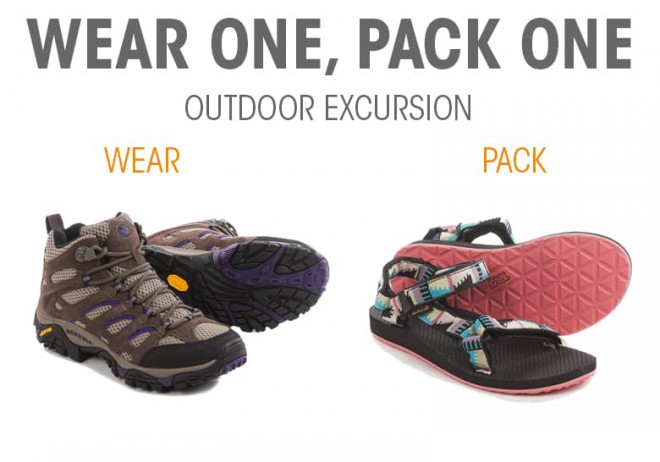 Wear One:
Wear your go-to hiking boots or trail shoes. You will need these to tackle tough terrain and keep your feet warm when the sun goes down. This is the main type of travel shoe necessary for an outdoor-fueled vacation.
Pack One:
Pack a pair of sport sandals. These types of sandals can handle water and trails, preparing you for a variety of situations. Plus after a long day of hiking, your feet deserve some breathing room. Backpackers are often torn on whether sport sandals are worth the extra space and weight. Lightweight options are available, and this footwear comes in handy for water crossings.
Urban Adventure
If your vacation mainly involves exploring cities and urban hot-spots, you'll need options for both style and comfort.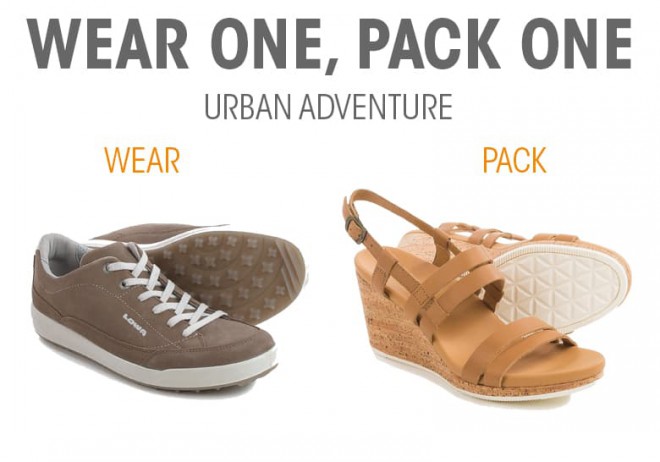 Wear One:
Wear a pair of casual sneakers that give you the proper support and a hint of style. Sneakers come in all sorts of styles and designs, making it simple to find a pair you and your feet will love. It's essential to have something comfortable for days spent roaming the streets.
Pack One:
Pack a pair of casual sandals that are dressy enough to wear to dinner or for a night on the town. While comfortable sneakers work well for most sight-seeing, the evenings might call for a more dressed-up look.
Weekend on the Water
Sitting lake-side, ocean-side or river-side can be an amazing way to spend time off. You'll need the proper travel shoes to fully enjoy this vacation.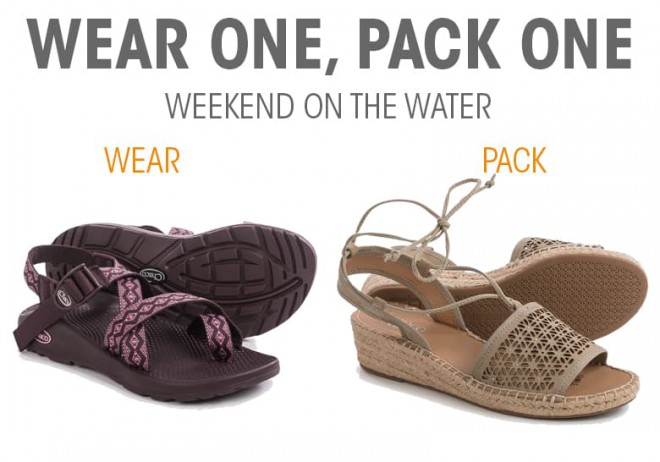 Wear One:
Wear a pair of sport sandals to protect your feet without worrying about wet shoes. Sport sandals allow you to take on rocky riverbeds and comfortably hike to more remote beach spots. This type of footwear is a must for water adventures!
Pack One:
Pack a pair of casual sandals to wear once you leave the beach and hit the town. If your water fun is more rustic than tropical, you might consider packing a pair of sneakers or hiking shoes instead. Chilly nights outside around a campfire call for more protective footwear than what you might wear to a beach-side restaurant.
Have a better idea of what type of travel shoes to pack for your next vacation? See what we have available at our everyday low prices:
Shop Casual Sandals
Shop Sport Sandals
Shop Sneakers
Shop Hiking Shoes