Candlewood Lake is Connecticut's largest lake and a favorite retreat for visitors and locals of Danbury, Connecticut. Most people think of Candlewood Lake as the best place to go in the summer to enjoy some boating and swimming, but it's truly a year-round playground; you can enjoy hiking, boating and swimming in the summer, and snowmobiling, ice skating and world-class ice fishing in the winter.
If you're ready to explore Candlewood Lake year round, check out the list I put together of the best places to enjoy Candlewood Lake in any season. And don't forget to stop by the brand new
Sierra Trading Post Store in Danbury, Connecticut
to pick up the best gear for all of your outdoor adventures. The grand opening is November 3
rd
!
1. Danbury Town Park, Danbury
Also known as "Candlewood Lake Town Park," Danbury Town Park has 200 yards of sandy beachfront for swimming and relaxing in the summer sun, as well as picnic tables and a playground for people to enjoy the lakefront year round. The 11-acre park offers a peaceful place to relax right in town, and it also features a boat dock.
2. Bear Mountain Reservation, Danbury
Only a 15-20 minute drive from the Sierra Trading Post store on Newtown Road, Bear Mountain Reservation is the place to go if you're looking for a nice hike on Candlewood Lake. Head to the Bear Mountain trail for great lake views and a quiet hike. It's bursting with colors in the autumn and a great place to try snowshoeing in the winter. Leashed dogs are allowed here, so many love to take their furry friends for a walk in Bear Mountain Reservation.
3. Squantz Pond State Park, New Fairfield
Candlewood Lake is one of the premier places to go fishing and ice fishing in the Northeast, and while Squantz Pond is seperated from the lake by a causeway, Squantz Pond State Park offers easy access to one of the best coves on the lake for fishing. Anglers enjoy successful year-round fishing in Squantz Cove, just south of the causeway. You can put in your boat at the Squantz Cove public boat launch on the south end of the Park. Be sure your fishing license is up to date, and if going out on the ice, check that the conditions are safe and the ice is at least four inches thick. Stay away from the causeway when ice fishing, because safe ice isn't easily found. Squantz Pond State Park has trails with beautiful lake views and a nice swimming beach, too.
4. Pootatuck State Forest, New Fairfield
If you're looking for an active way to enjoy the hills and forests around Candlewood Lake, head to Pootatuck State Forest in New Fairfield to hike, mountain bike or boulder. Pootatuck State Forest borders the northwest corner of Squantz Pond State Park and is only a 25 minute drive from the Sierra Trading Post store. Try the Pootatuck State Forest loop for a nice hike; it's a moderate two mile loop with lake views and hilly terrain. Pootatuck is a popular place for snowmobiling and hunting when the mercury drops, too.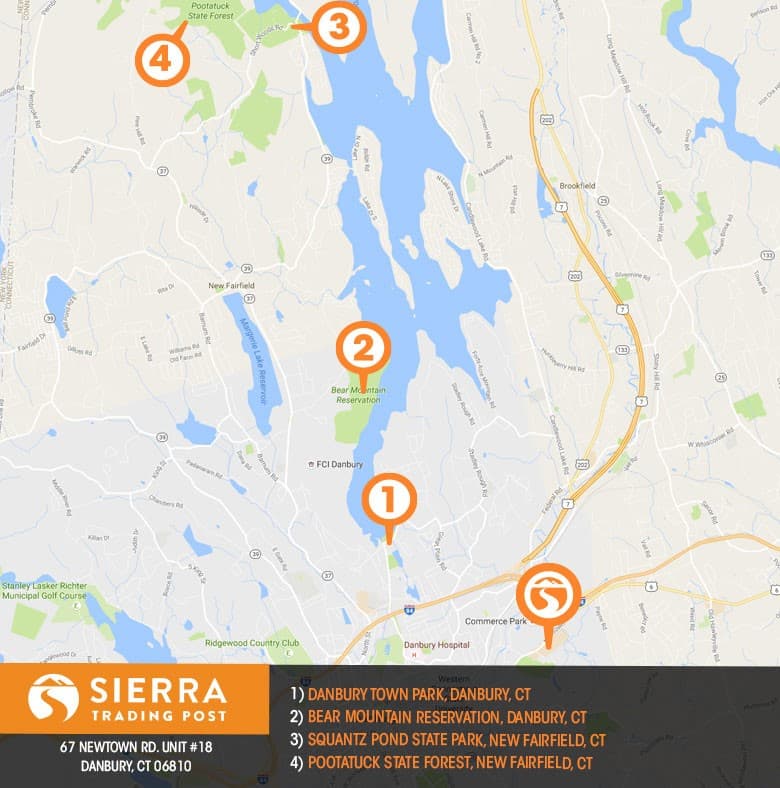 Featured image courtesy bettyx1138, Flickr.