Mention the word boating, and depending on the person, the word may bring to mind a wide variety of activities on an equally wide variety of watercraft. It might mean enjoying a lake or reservoir in a canoe or kayak. doing tricks on a personal watercraft, or entertaining friends on a pontoon boat or lavish cruiser.
No matter what the preference, Wyoming State Parks' boating options should satisfy all boaters from anglers to recreation seekers.
Although there are several lakes and reservoirs in Wyoming State Parks for boating, some parks are more popular with certain types of boaters.
Guernsey State Park Water Recreation
Guernsey State Park is popular with recreational boaters. Skiers and people who enjoy personal watercrafts, such as wave runners, can be found here.
Visitors should be aware that Guernsey Reservoir is usually drained each year for the annual "silt run" shortly after the Fourth of July to provide irrigation for surrounding agricultural lands. The reservoir usually refills in early August. Visitors should call Guernsey State Park (307-836-2334) or State Park headquarters (307-777-6323) to learn about water levels.
Because of the silt run, Guernsey is not a popular destination for anglers.
Curt Gowdy State Park Water Recreation
Canoeing and kayaking are extremely popular at Curt Gowdy State Park. Boating is permitted at Crystal Reservoir (15 horsepower limit), but swimming is prohibited. This makes Curt Gowdy State Park more popular among anglers and those looking to boat without jumping into the water.
Boysen, Buffalo Bill, Glendo, Keyhole & Seminoe State Park Water Recreation
Most of Wyoming State Parks' other water recreation areas such as Boysen, Buffalo Bill, Glendo, Keyhole, and Seminoe State Parks offer a variety of opportunities to boaters. You might even see windsurfing on some of Wyoming's State Park waterways. Regardless of any visitor's chosen activity on the water, they will find opportunity to enjoy their visit.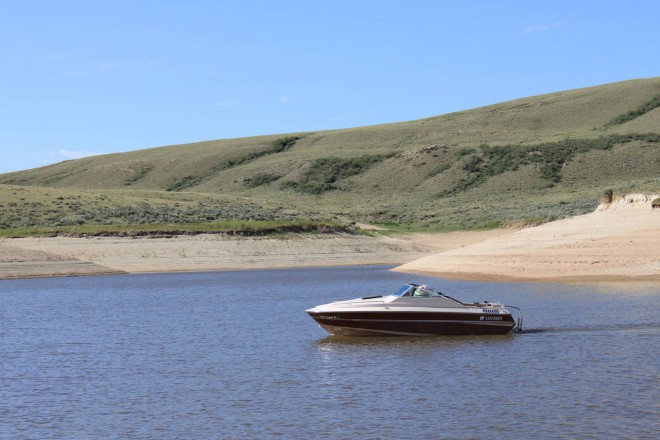 Local, State Park marinas are never far away to offer supplies and rentals.
The Boysen Marina offers boat repair and accessories, and a well-stocked convenience store. The Glendo Marina provides a wide array of merchandise such as bait and tackle, boating supplies, grocery items and even Wyoming fishing licenses.
The Glendo Marina also offers a few campsites and boat rentals. A six-room motel with a restaurant is on location and provides a lakeside dining experience after a day on the water.
At Keyhole, a variety of boats such as kayaks, canoes, pontoon boats and speed boats are available for rent. Wakeboards, skies and tube rentals are also available to speedboat renters.
Follow State Park Regulations
Although problems are scarce, boaters are asked to respect the interests of others on the water, which helps ensure everyone can enjoy the lakes and reservoirs.
Additionally, through the efforts of the Wyoming Game and Fish Department, Wyoming waterways have not been affected by Aquatic Invasive Species. Please adhere to mandatory boat inspections and remember to drain, clean and dry all watercraft after enjoying a day on the water.