With a little preparation and some paddling practice, the age-old pastime of canoeing can be extremely rewarding. Of course, many people are surprised to discover just how many different types of canoes there are, which can be a little intimidating for first-time buyers.
From rugged whitewater canoes to sleek touring canoes, there are numerous options to choose from. Need some help deciding what canoe to buy? Follow the steps below to get started.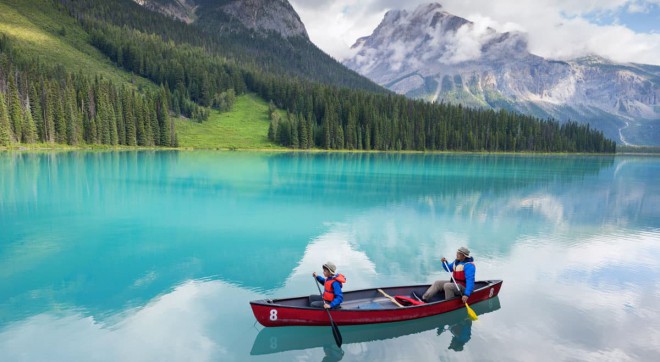 1. Choose a style of canoe.
Most canoes fall into one of six primary categories:
Recreational canoes offer an entry-level price point and are good for beginners. This type of canoe is a great starting point for most new paddlers.

Touring canoes are designed for longer ventures and include both flat-water-touring canoes and river-touring canoes. If all-day or overnight trips are in your future, consider a touring model.

Expedition canoes are designed for multi-day trips and maximum cargo capacity. These canoes are large and extremely robust.

Fishing canoes include rod holders and other features designed specifically for anglers.

Whitewater canoes are compact, strong and designed to take on challenging whitewater conditions.

Inflatable canoes are easier to transport but take time to inflate when you arrive at your destination and deflate when it's time to head home.

2. Choose a carrying capacity.
In general, larger canoes provide more capacity than smaller canoes, but canoe shape and construction are also big factors. Before choosing a canoe, make sure it will provide enough capacity to safely carry all paddlers and gear. Most canoes are designed to accommodate at least two adults. Some larger models may be big enough to carry two adults and one or two children, or possibly even three adults. Solo canoes are smaller and easier to maneuver for single paddlers.
3. Consider hull shape.
The shape of a canoe's hull will determine how that canoe handles on the water. Canoe shape includes both the profile of the hull and the cross section of the hull. Check out the graphic below to learn more.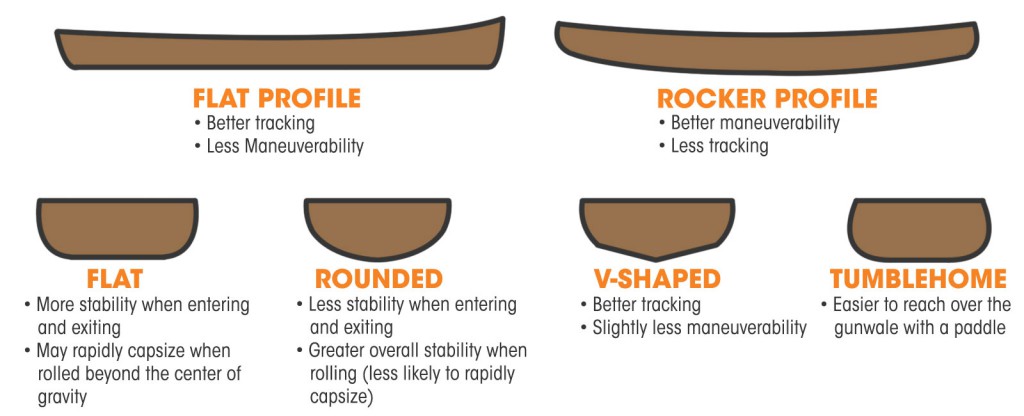 4. Consider canoe material.
Most commercially available canoes are made using one of six materials:
Wood is ideal for anyone who appreciates traditional aesthetics, but wood canoes are also more costly than canoes made of modern materials. And although wood is less durable than polyethylene, it's also relatively easy to repair.

Aluminum canoes are becoming less and less common, largely because superior materials like fiberglass and polyethylene are easier to work with and readily available. However, aluminum canoes can still be great boats for recreational paddling.

Polyethylene canoes are lightweight, durable and affordable. The biggest drawback to polyethylene is that damage can be difficult or impossible to repair. However, this material is quite tough, so cracked hulls are pretty uncommon.

Fiberglass canoes are extremely light, which is great for portaging. The biggest drawback is that fiberglass composite hulls are more fragile than polyethylene. However, most damage can be easily repaired using fiberglass fabric and resin.

Kevlar canoes are typically created using a combination of both Kevlar and fiberglass, called a composite. The finished product is both stronger and lighter than a fiberglass-only canoe. However, Kevlar canoes are more expensive than both polyethylene canoes and fiberglass-only canoes.

Thanks for reading our article on how to choose a canoe. For more information on canoeing, including paddles and accessories, be sure to visit our
Canoeing Guide
.