My whole life, I've very much been a land person. I love the mountains, solid ground beneath me, firm rocks to hold on to. When the opportunity came for me to join friends on a 7-day, 6-night canoe trip in the Boundary Waters in Northern Minnesota, I was cautious but curious. I had no idea what a multi-day canoe trip would entail or what additional gear I would need, but I agreed to the trip and to date, it's my most favorite outdoor adventure.
If you are a land person, like me, and curious about what to expect and how to plan for a trip to the Boundary Waters Canoe Wilderness Area (BWCA), read on! With a little bit of planning, even we land-dwellers can plan a successful canoe trip.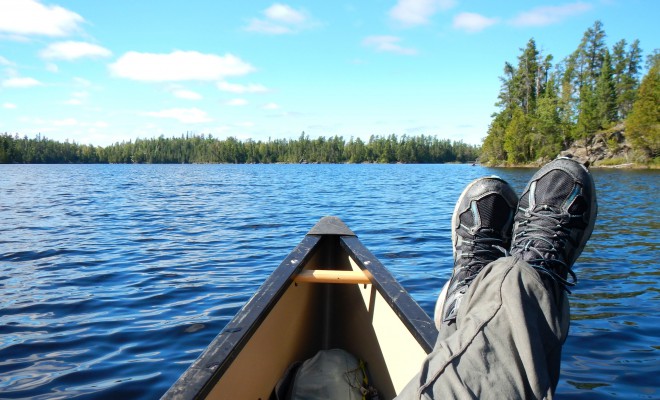 Planning Ahead
(7-9 months pre-trip)
First things first, start early. The Boundary Waters Canoe Wilderness Area is part of the Superior National Forest in northern Minnesota and is a system of connected lakes bordering Canada. Getting into the BWCA requires a permit and is best visited in the summer/late summer months. If you're reading this post, you'll likely need an outfitter who will provide the necessary gear (
canoes
,
life vests
, duluth packs, wannigan).
Begin researching outfitters that most align with your trip objectives. Looking for a rugged multi-day trip? Family-friendly adventures? Routes geared toward wildlife? Ask the outfitter what they specialize in and find a company that works best for you. There are several points of entry throughout the BWCA, as well, so be sure to factor this into trip planning; some are closer to civilization than others and could be easier to get reach if time is limited.
Once you have your outfitter, lock in your dates and secure a permit (your outfitter can help with this) and get excited! You're going to the Boundary Waters!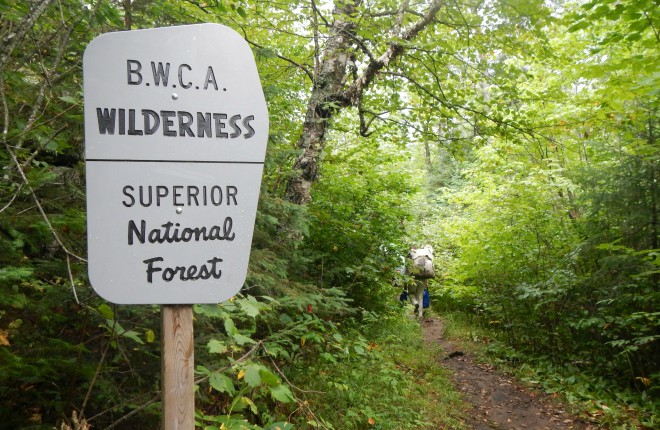 Getting Psyched
(3-7 months pre-trip)
Read trip reviews and guide books about the BWCA. Google beautiful images of your future campsites. Tell your friends you're going to spend your vacation in a wooden boat in remote wilderness. But also, start looking at gear, routes and food.
Boundary Waters Gear
During this time, you should also start reviewing gear you have and gear you need. Your outfitter can help in identifying outstanding gear you'll need for your trip based on your objectives.
Suggested gear:
Life vest
,
rain jacket
and
pants
, comfortable
hiking/trail shoes
(even better if they dry quickly!),
dry bags
,
canoe pack
, wannigan, waterproof walkie talkies, waterproof camera.
Boundary Waters Routes
Begin reviewing maps of where you'll put in to begin the trip, how many miles you'll plan to paddle each day, where you'll plan to camp (BWCA has dedicated camp sites) and where you'll end your trip. Have a plan but consider back up plans if the team wants to spend an extra day at a particular campsite.
Route option:
Stay at Gunflint Lodge; put in at Round Lake, 5 miles west. Paddle 5-10 miles per day (relaxed pace) through Tuscarora Lake, Crooked Lake, Mora Lake, Little Saganaga, Gabimichigami Lake, Ogishkemuncie Lake, Jasper Lake, Sea Gull Lake. Dock at Gunflint Trail at Sea Gull Lake.
Boundary Waters Food
Begin reviewing meal options and build out a meal plan. A beautiful thing about canoe trips is that meals aren't limited to standard backpacking fare if you use a wannigan -- a wooden chest that can be used to store food while canoeing. Keep perishables in mind as well as Leave No Trace principles but dream big. On my trip, we made bacon and eggs for breakfast on day 2 and scarfed down gluten free calzones on our last dinner.
Paddle snacks:
trail mix, granola bars, candy bars, dried fruit,
energy snacks
.
Last Minute Prep
(4-6 weeks pre-trip)
Check and double check your gear, ensure you have your permits in hand. Plan how you'll get to the BWCA (Drive? Fly then drive?) and confirm itineraries for your trip mates. Draft a killer out-of-office so your colleagues know you're off on an adventure while you're away from work.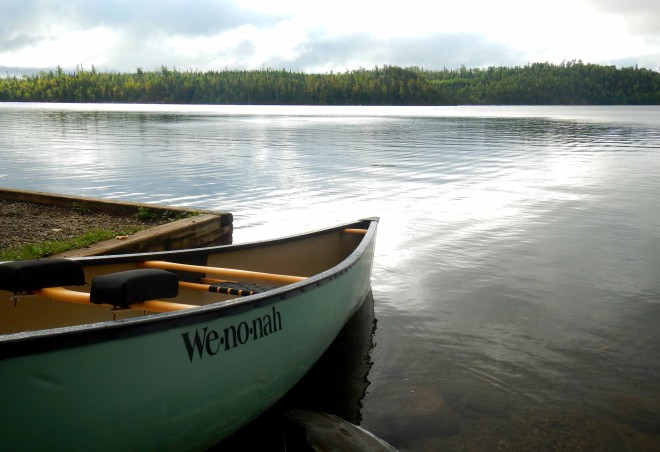 Do It!
(Trip starts now!)
After all your planning, get yourself to the BWCA and kick off your trip! Savor the solitude you'll find in these northern Minnesota waters. Explore this pristine and wild wilderness and forget all about the 'real world' you left behind. Work stress, politics and social media can't follow you here.
When the time comes to dock your canoe for the final time, don't be surprised if you find yourself scheming to get back to this beautiful place again ASAP. And you, too, will be spreading the word about the incredible canoe trip you took that one summer.
*All photos courtesy Lynne Petre