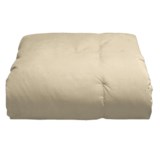 Overstock. Not a chance of feeling chilly under this heavenly bit of down warmth. This down throw blanket from Blue Ridge Home Fashions is so delightfully soft, your whole family might just squabble over the privilege of snuggling under it.
Average Rating based on
511
reviews
4.162426
0
5
Verified Buyer

Reviewed by mule lover from Montana on Thursday, September 1, 2016

Will get a lot of use when winter arrives. Very well constructed & looks nice in red. Great purchase on clearance.

Verified Buyer

Reviewed by SierraSue from New York on Wednesday, August 31, 2016

Do not expect this to be a blanket....check the dimensions. It is so light and fluffy and can be squished really small for storage. It's perfect as a lap blanket or children's throw.

Verified Buyer

Reviewed by Vagabond from Tundra of WI Northwoods on Wednesday, August 31, 2016

Nice size and thickness for the price. I bought one red and one brown for Xmas gifts for elderly relatives. Should have bought more.

Verified Buyer

Reviewed by Sureha from MN on Monday, August 29, 2016

I use it as my children's Spring/Fall blanket. It's perfect. Not too thick nor heavy, and very easy for them to make their bed. And I didn't have to buy a big guy size down blanket for much more. Great deal.

Verified Buyer

Reviewed by MP from Chicago on Sunday, August 28, 2016

Love it, would buy more but out of stock. Light, warm, comfortable.

Verified Buyer

Reviewed by JA from Eastern Washington on Wednesday, August 24, 2016

This throw is perfect for cozying up in your favorite chair. It's light enough for summer evenings.

Verified Buyer

Reviewed by Christine from AZ on Saturday, August 13, 2016

Just right for cool nights on the couch watching t.v. and perfect for the car.

Verified Buyer

Reviewed by Kris D from Minnesota on Friday, August 12, 2016

Couldn't beat the price! Clearance price for nice throw blanket.

Verified Buyer

Reviewed by Dash from Ohio on Thursday, August 11, 2016

Great price for a down throw

Reviewed by Earthy Mom from Arizona on Wednesday, August 10, 2016

Our family has been on the search for these mini down throws for a few years, seems we could only find poly-fill for a while there. We got these to use as kid-sized bedding and they work great for that purpose. The construction is really nice, the down must good quality because there's none of that "pokey" feather feeling. BUT, I would say that the espresso color is much more black than brown. I've held it up next to everything in my house that's brown and everything that's black, and it's definitely black. But, for this price and quality, a little color difference like that doesn't bother me, I'd happily re-order or order more! I love knowing that I can outfit my kids with nice down blankets for less than $10 a piece! Can't beat that!