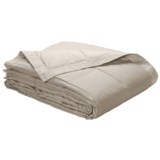 Closeouts. You'll sigh with contented bliss each time you snuggle beneath Blue Ridge Home Fashions' white goose down blanket, packed with puffy down and wrapped in a soft, 300-thread-count-cotton twill cover.
Average Rating based on
15
reviews
4.400000
0
5
Reviewed by DDS from AR on Tuesday, November 5, 2013

Living in the south, we don't usually have long frigid winters. We do have cold weather, however, according to my husband our house is like living in the artic! What can I say... I have hot flashes. I purchased this in the king size and it is a perfect fill (19 oz ) for three season use. The size is generous and fits perfectly in my duvet cover. Due to the high thread count, I don't have feathers flying around the room. I was so impressed by this blanket that I decided to purchase another king size. When my son came to visit I doubled the king size to make a twin and used the ties inside my twin duvet to secure it. He was toasty all night. When our weather gets colder I will secure this extra king size into my duvet along with the first one I purchased to have a 38 ounce fill. As soon as these blankets arrived, I put them in the dryer on very low heat for 20 minutes to fluff the down. The twill cover will seem a little rough at first, but after a week or so the blanket is not rough and doesn't make a crinkle sound. I decided to make some changes to my duvet covers and the blankets. I purchased some binding / hem tape and sewed additional ties into all of my duvet covers. I also measured where the ties were and marked those areas on the blankets. I sewed some narrow binding tape to the fabric of the blankets (not the pockets that hold the down, just the boarder fabric of the blanket) making a loop in each marked area to secure the blanket to the duvet tie. I now have ties and loops at every corner top & bottom, 1 in the middle at the top & bottom of blankets and 1 on each side. This also eliminates the bulk of tying wads of blanket into the ties of the duvet. It makes it so much easier with a king size comforter to shake the duvet to fluff the down. Now I don't have to search for the comforters inside the duvet! I hope this review was helpful. Thank you STP for great customer service and amazing prices.

Reviewed by N.tT. from Brooklyn ,NY on Thursday, October 31, 2013

This blanket is excellent..Good quality . warm enough for me and with 45% discount has reasonable price. I love it.

Reviewed by NorthtoSouth from San Diego on Thursday, October 17, 2013

Blanket is great. The cover is soft, but stiff-ish - percale-style. It a little warmer than we wanted (living in so cal), but that's a matter of preference, not the blanket's fault!

Reviewed by Christian in the Mojave from California on Tuesday, May 14, 2013

If you look at the product picture and see that the turned down corner looks like a flattened ravioli, then you have the complete picture of how much loft this blanket has. It does seem to keep you warm, but there is not a lot of loft nor does it appear to plump-up with time. Our weather just turned warm so it will be difficult to judge how well it will do until the temperatures dip again. We'll keep it on for a while and see how it does. I can tell you our 18 year old cat likes it. Hope that helps.

Reviewed by retired2hnt'nfsh from Wisconsin on Tuesday, March 19, 2013

Not too hot, not too cold, so it's a nice weight for us. Somewhat stiff feeling at first, but it's fine now. We are finding little pieces of down floating around the bedroom, but I think it might be just remnants from the making of the blanket. We're pleased with the purchase so far.

Verified Buyer

Reviewed by Sandy from Westfield, NY on Friday, February 15, 2013

My husband is always cold at night. This blanket has kept him warm and better rested. He loves it.

Verified Buyer

Reviewed by GLouise from Northern MN on Sunday, February 10, 2013

We have one for ourselves and this is for a wedding gift...A good weight if you "sleep warm"

Verified Buyer

Reviewed by Oops from Haines, OR on Thursday, January 31, 2013

Perfect size, just the right amount of warmth

Verified Buyer

Reviewed by Stephanie from Dallas, TX on Wednesday, January 16, 2013

With an older house and not-so-great ductwork, the rooms furthest from the furnace (including our bedroom) are a good 10 degrees colder than the rest of the house. I was looking into getting an electric blanket, but I didn't want to deal with the wires. Since I love my down jacket so much, I thought I'd try the down blanket. I LOVE this product! It's incredibly lightweight, and much easier to deal with than a down comforter/duvet. It's large enough that it hangs over a bit on each side of our King matress, and well over the bottom, so it doesn't shortchange either me or my husband. When I get into bed, it almost feels like it absorbs and then emits heat back out - it warms up so quickly! And all night I'm toasty and happy. Sadly, it does NOT help me haul out of bed in the morning. Bottom line, I am happy I chose this blanket rather than an electric blanket.

Verified Buyer

Reviewed by Nick from New England on Monday, January 14, 2013

I have been sleeping much better since purchasing the blanket. The house cools off about 2-3am. I am in the coldest part. The blanket is a big plus.