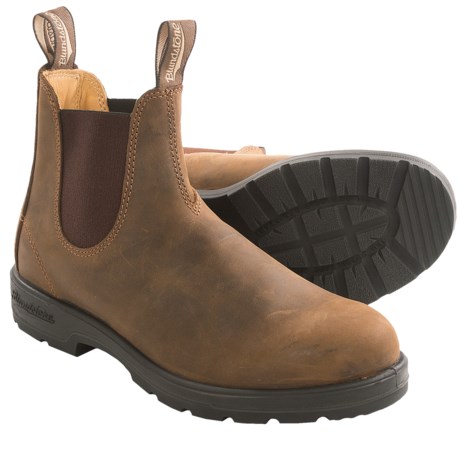 "The Blundstone I currently own say size 4.5 on the bottom (AU size). What size do I need to get from this store for it to be the same size?"
Mmm, not sure. But I know I have a size 8 in US size, and I got the 6 with these, they fit perfectly.

For each size listed for a particular Blundstone shoe, move your mouse over the size and it will give you the US shoe size equivalent. I ordered by the "US equivalent" size since the sizing seemed to change from the last time I ordered a Blundstone shoe. The last pair I ordered fit fine doing this.

STP states the Blundstone boot sizes in UK shoe sizes which I believe is the same as AU sizes. So, if you want the same size as you have now, AU 4.5, just look for UK 4.5 on the STP site. Can't beat their prices.

Hiker,

So depending on whether you are a male or female....read below.

Blundstone safety boots are marked with Australian sizing on the boots.

Men - US sizing is one size bigger for mens. For example, if you are a men's US 10 then your boots will be marked size 9 - the Australian size. Blundstone 1/2 sizes refer to width only so for example an Australian 9 1/2 is a US 10 Wide not a US 10 1/2.

Women - US women's sizing is identical to Australian sizing (women's styles only 741,742,and 743). Remember that the size on the box will be the Australian size.





Order a 4.5 AU size, the boots should be the same

My understanding is that the half sizes are the same length as the number (i.e. equal to the 4), and the half size is wider.

http://www.betts.com.au/sizing-guide

I wear 39 Euro size/8.5 US size and found that my Blundstone size is 6 from Sierra Trading Post fit perfectly.

Good luck!

I normally wear a 39, or US 8.5.

I ordered a size 6 Blundstone BL063 and they were huge on me.