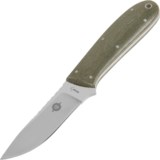 Closeouts. Inspired by Bob Dozier's legendary Yukon Skinner, the Boker Plus Dozier Anchorage Pro skinner knife incorporates a hollow-ground AUS-8A stainless steel blade with artistic file work on the spine that doubles as a slip-resistant thumb rest.
Average Rating based on
5
reviews
4.200000
0
5
Verified Buyer

Reviewed by OhMiSam from Ohio on Saturday, August 23, 2014

Classic Dozier design, based on the Dozier K-16 (Yukon Pro Skinner). Will require some attention to even up the grind and put a decent edge on it, but I expect that on nearly every production knife purchase. Micarta handles fit the hand nicely and can be sanded a bit to improve grip.

I don't like the jimping on the blade, which serves little purpose other than decoration. True jimping would offer added traction for your finger on the blade. The sheath, while not quality, is serviceable. I would expect to replace it quickly with hard use.

This would make a great hunting knife for the Midwestern whitetail hunter. Hard to beat for the money.

Verified Buyer

Reviewed by Jeff from Idaho on Thursday, August 14, 2014

Got a screaming deal on this Boker. You don't find a Boker at this price everyday. I really liked the finish work; tight handles, flush pins and lanyard bushing. I came with a really nice edge. The leather sheath holds the knife snuggly, and is stitched and not riveted. I hope to use this knife this fall for field dressing big game.

Reviewed by 260remguy from Colorado on Friday, July 4, 2014

A good production grade knife. While this design may have been inspired by Bob Dozier, it doesn't have the fit and finish of a custom knife. If you can afford to spend a little more money, I would recommend looking at Harvey King's custom knives, as they offer a nice balance of cost and quality in an entry level custom knife.

The "artistic file work on the spine" is not nearly a slip-resistant as I would like, so I did a little file work to improve the "slip-resistance".

Reviewed by TimBowG from Arizona High Country on Friday, May 9, 2014

If you are looking for a great medium sized knife for hunting or camping this would be a top choice!
I've always liked the look of the Dozier knives, but really didn't want to pay the $200 plus price tag for one. This is the answer. The design is great and the quality is definitely visible in this knife.
This knife will fill many niches in your camping and hunting needs. It sits good in your hands and the micarta looks and feels real nice.
There are 2 reasons for 4 stars and not 5. One is that you can feel a little bit of the pins in the handle, just a nit picky thing that can be resolved with a little emery cloth.
The other reason is the sheath. The sheath is very tight, which is good for carrying, but has a bit of a cheap feel to it. It has a very large loop that allows it to hang too low on my waist. I not a big fan of dangling things on my belt. I would have liked to see an angled type of belt slot to wear this knife in a out of the way area on my belt like the small of the back or maybe cross draw. You can't complain too much because of such a great price, but again I'm being nit picky.
The AUS-8A steel is a nice feature in this knife also. Easy to maintain and holds an edge well.
The jimping on the back of the knife is purely decorative. All the edges have been polished out and very little usable grip is left. I'm going to run a file over it to restore the edges in that area.
Overall, you won't be disappointed in this knife. It does everything that is needed and more!! The best of Dozier design, the best of Sierra Trading Post price.

Verified Buyer

Reviewed by Ironwoodsman from Norhteast on Wednesday, April 30, 2014

Boker Plus Dozier knife has a hollow ground 3.5"blade is a very sharp fine edge.with good belly. Smooth finished green micarta handle scales and shape are comfortable in even my big hands. The knife comes with an attractive dark brown sheath with good tight retention. I installed a paracord lanyard to make removal from the sheath easier. Fit and finish is decent were as a couple of the pins feel slightly higher than the contour of the micarta. The file work jimping is more decorative than functional. The blade aus8a steel which I like and consider a working man's knife steel. Even a sharpening novice can get a razor sharp edge on aus8a and edge retention is one of the best for a mid range steel in my opinion. This would make a great hunting knife for gutting and skinning or a handy knife for camp chores. Four stars because Chinese Boker products are known for some fit and finish issues. Buy this knife and you will see why Bob Dozier designs are so popular. They are ergonomically friendy and useful cutting tools.