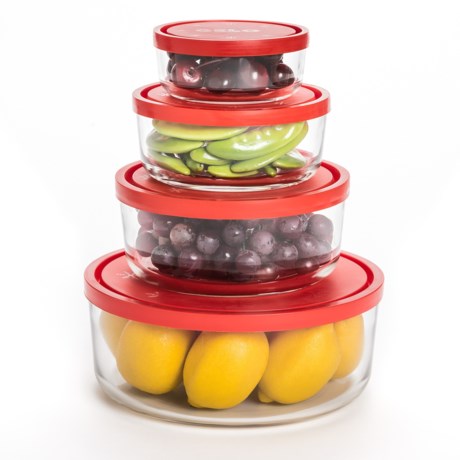 "Is the glass lead-free?"
Yes, the glass is lead-free---and the covers are BPA-free.
I think I purchased 7 sets. Got rid of all my plastic, and I couldn't be happier.
Remember not to use the covers in the microwave.

Yes - see the Bormioli website

yes. BPA free as well. google the question!

If you were to go to their home web page and look under Facts and FIgures - it states "all glass types are lead free' and they list the types which include: Star, Opal, Soda Lime, and Tempered -- and I believe their storage bowls are tempered glass. Here is the web site so you can do the research and be satisfied with your decision: http://www.bormioliroccousa.com/who_we_are/#facts Hope this helps.

It is from Italy, not China, but I have no clue about the lead. Maybe google the company to find out.

While the label does not indicate lead free a quick google search says yes, they are lead free.

Yes, the glass is lead free. The Bormioli Rocco website lists specifications for their glass: http://www.bormioliroccousa.com/who_we_are/#facts

As a customer, I don't have any more information than is in the description. I will say these are high quality and I cannot believe they would produce a glass for food storage that would have a lead toxin potential. You might try checking the company website.

I think all glass unless its painted is lead free. I searched a lot before I found these and the other bowls and plates the company makes and I was happy to find things not made in China!!! I am very happy with these and the glass blue and clear bowls and plates they have.

I would contact Bormioli Rocco to find out if the glass is lead free. I read the description and about Bormioli Rocco in the side note and did not find an answer.

I assume so since it i the Chinese who tend to throw in lead, and this is made in Italy. I find Italian kitchen products superior overall. Thats why I bought them and yes made IN Italy, not FOR Italy. Cuisinart used to be made in France, right? Not now. Made FOR them in China. I understand your caution, I wont buy ceramics or glassware from Dollar stores and even Libbey has some stuff made in China now... probably best bet is to buy 1950s used stuff from thrift stores and yard sales if you want to avoid lead (!)


The description of the product did not state whether or not it contained lead. However, when I think of glass containing lead, as in Lead Crystal, I think of more expensive glass. And truth be told you can't get glass much cheaper than this. Searching the web I found this description on the storage bowls. The bowls pictured were the same with the red lids. And the description about the company's history would lead me to believe they produce quality.

"6-piece Gelo storage set with 3 bowls and 3 lids; 4-1/2-inch, 6-inch, and 7-inch
Crafted from premium clear glass with red plastic tight-sealing lids"