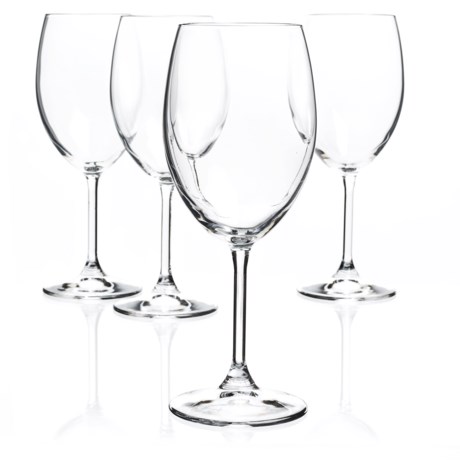 Very nice for a bargain price
Reviewed by Bonasa Umbellus from New York on Saturday, August 20, 2016
Let's be clear from the get-go that these are not in the same league as Reidel or Spielgau wine glasses--but that fact holds true not just for their quality but for their price. They are very well shaped, sturdy glasses; they even give a decent ring tone when you flick the rim with your fingernail. They look like they will withstand a fair amount of rough-and-tumble activity in a dishwasher or perhaps even being toppled atop a table. What they lack is that paper-thin elegance and absolute crystal clarity of, say, a Spielgau glass. They are easily twice as thick thoughout and have a fair number of waves and unevenness in their stem, base, and walls, and they lack that incredible brightness, where quality crystal channels light and magnifies it. But they are still seamless and a far cut above any Target-grade stemware you might find.

However, these will hold your wine with the very best of them, and few will notice how they compare to top-shelf stemware unless placed side by side with the competition. Best of all, at STP's clearance prices, you can afford to stock up your cabinet with these and not shed a tear if one gets broken along the way.

Oh, one other thing: they are completely lead-free--unlike the even cheaper Nachtman Vivendi glasses STP is selling. Really, folks, you don't need any exposure to lead in your glassware--especially at these kind of prices.
Most helpful positive reviews
Most helpful negative reviews
Similar items and more information in the following areas: