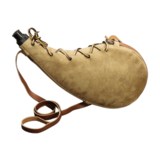 Overstock.Bota of Boulder's 50 oz. bota bag is infinitely more fun to carry than a plain old water bottle. Soft and smooth pig hide exterior is decorated with contrast leather lacing.
Adjustable strap: 20-½"
Size: 13-¾x6-½x3"
Capacity: 50 oz.
Weight: 10 oz.
Material: Pig hide exterior and composite bottle
Overstock. USA.
Average Rating based on
21
reviews
4.523809
0
5
Reviewed by Observer from Hemet, CA on Friday, August 31, 2012

While this product was once good for a gift or casual use, the fact that the company is no longer around makes replacement or warranty unavailable. You are better off purchasing an item from an established company that is able to stand behind their product.

Cons: Company Folded-no Returns
Describe Yourself: Casual/ Recreational
Pros: Good Capacity, Impact Resistant, Unique Design
Was this a gift?: No

Verified Buyer

Reviewed by jim from texas on Tuesday, October 5, 2010

great

Best Uses: Camping, Cycling, Everyday, Hiking, River Trips
Pros: BPA Free, Good Capacity, Impact Resistant, Retains Temperature, Slim Design, Unique Design
Was this a gift?: Yes

Verified Buyer

Reviewed by Shameless O'Shay from Tulsa, OK on Friday, May 14, 2010

This is a delightful piece of gear, and looks great hanging from the shoulder.

Best Uses: Camping, Renaissance Festivals
Cons: Faint initial fish scent
Describe Yourself: Casual/ Recreational
Pros: Good Capacity, Unique Design

Verified Buyer

Reviewed by Trapper Dan from Foxboro, Wisconsin on Tuesday, April 27, 2010

Use to carry water with me while on the trapline.

Best Uses: Camping, Hiking, River Trips
Cons: Leaves Aftertaste
Describe Yourself: Avid Adventurer
Pros: Good Capacity, Impact Resistant

Verified Buyer

Reviewed by Warrior Monk from Alabama on Monday, April 19, 2010

It's perfect for those hot days in armor.

Best Uses: Medieval Reenactment
Describe Yourself: Military/Law Enforcement
Pros: Good Capacity, Retains Temperature, Unique Design

Verified Buyer

Reviewed by Mad Hatter from Massachusetts on Wednesday, April 14, 2010

I bought it cause i thought it was something different and neat. Im satisfied with it. Holds water doesn't leak. Holds a lot of water actually. Outside covering is really nice.

Best Uses: Camping, Hiking, River Trips
Describe Yourself: Avid Adventurer
Pros: Good Capacity, Impact Resistant, Slim Design, Unique Design

Verified Buyer

Reviewed by I ride a Clydie from southern Maine on Thursday, March 4, 2010

Just thought it would be fun to have one. Really like the smooth chocolate brown leather. Absolutely more interesting than the old water bottle. Works great - no issues with water all over.

Best Uses: Camping, Everyday, Gym, Hiking, River Trips
Describe Yourself: Casual/ Recreational
Pros: Good Capacity, Impact Resistant, Retains Temperature, Slim Design, Unique Design

Verified Buyer

Reviewed by EZ-E from Oakdale, MN on Wednesday, March 3, 2010

I owned a traditional bota that I bought in Spain years ago that started to leak. While this is not as cool as my old one, you cannot beat it for the price and since I can't afford to fly to Spain right now, this is a good replacement. It is about what I expected and I am pleased.

Best Uses: Camping, Hiking, River Trips
Cons: The hard liner
Describe Yourself: Casual/ Recreational
Pros: BPA Free, Good Capacity

Verified Buyer

Reviewed by T.B. from northwest colorado on Sunday, January 24, 2010

great quality.

Best Uses: Camping
Describe Yourself: Avid Adventurer

Verified Buyer

Reviewed by "Jack Pine Sauvage" from Southern Ohio on Monday, January 11, 2010

I've been an avid camper and hiker since the early 1960s, and hiked and camped in Asia, India, the Middle East, Africa, Europe, South & Central America, plus all over the US and Canada.

I have used leather-covered botas, such as these, for over 30 years, and am completely "sold" on them for use in most situations or environments.

As well as "ordinary" hiking & camping, I also enjoy "reenactor" outdoors sports, re-creating early-American activities. While I own "coopered" wooden canteens, and even a big gourd canteen, I sometimes take the 50-oz. bota! The pigskin cover resembles deerskin, and the very light, very-durable, bota is perfect for all-day carry. In fact, I've recently bought new 32- and 50-ounce botas--- though my "older" ones show no signs of "wearing out!" (I STILL use a leather-jacketed bota I'd bought in 1978!)

The only "problem" is that the shoulder straps could be heavier, though many years' use has not hurt the strap on my 50-ounce bota. For looks more than anything, though, I admit I'd swapped the old strap for braided thongs on my 32-oz. bota, after three years' use.

Suede-covered botas are ideal for camera-stalking and hunting, for they do not "slosh" like a rigid canteen when partially full, or make noise if struck or rubbed by branches!

They're great, even for winter use-- just shorten the strap a bit, and wear it UNDER your coat! A squishy silicone cup goes easily in a pocket and makes it a snap to drink from your "chest-riding" bota.

For ultra-light hiking, too, a bota can't be beat, as almost all the weight is the water you're carrying!

Of all the botas I've seen, the "Boulder-Bota's Best!" I've never found a better brand-- either in "materiel" or appearance. It's rare to find a beautifully-made product that's made beautifully; and is, simply, beautiful.

Best Uses: Everyday
Describe Yourself: Avid Adventurer
Pros: BPA Free, Good Capacity, Impact Resistant, Slim Design, Unique Design