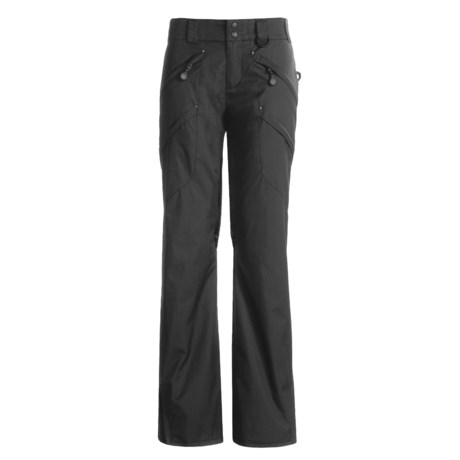 If you hover your mouse over or click on the sizes the corresponding numeric size will be displayed.

I would definitely buy a Medium for your sister. I typically wear size 4 to 6P and so I ordered small. They were big everywhere, so I cinched up the sides and they fit okay, but still are a little big. I got the XS and they fit perfectly except in the crotch which was too short in length. So I went back to the Small and I layer and they're almost perfect except a little loose in the waist. For your sister, a Medium should be perfect.

Hi, that's a good question. I suggest you get 12 to be sure layering fits. There's a chance they may be just a bit too big but she can always return for smaller size... going the other way is never good for a lady:) Size 10 with layering will be snug or just right! I hope that helps.

I'm a size 4 and I bought a small. The waistband adjusts about four inches (26-30"). I think a size small would comfortably fit sizes 4 - 6, even with some layering. So if I were to guess, I think medium would fit sizes 7 - 9, and large would fit sizes 10 - 12? These pants are great, too, by the way! The material and stitching are of good quality, the waistband is adjustable, they fit great over snow and ski boots, and have a lot of handy pockets. I love them.