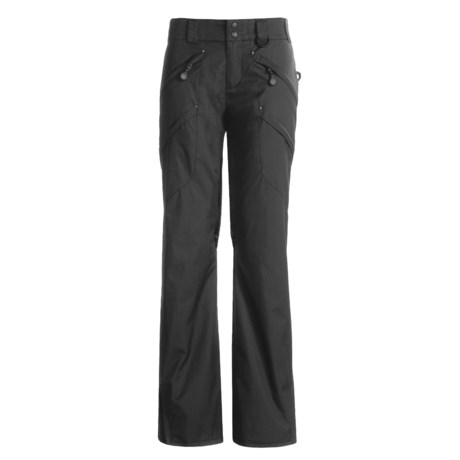 I'm not sure what the actual temperature rating is for these pants, but I wore them all winter (Michigan) to walk my dog & shovel snow and they were toasty warm with just a lightweight base layer legging underneath. Not sure if they would be warm for extended periods of just standing because I never just stand around in the snow. lol! Between these pants, my Sorel pac boots, and a winter parka, the only thing cold on me all winter was my face.

I wore these as work pants for my equine veterinary practice this winter in Virginia. They kept me warm standing in barns in the 20sF. Moving around they were good in the teens with Underarmor as a base.

tell you what! the mid rise hit way below my navel, or would have kept mine. i thought they were great weight, wind proof enough for even standing around looking cute without the bulk!

I would describe these as medium insulation - they are not super bulky, but they keep me warm skiing. In fact many times I have to open the vents because I get TOO warm. I don't know how they would be just standing, but I can tell you with even minimal exertion, they are plenty warm. And the lining is very soft and comfy.