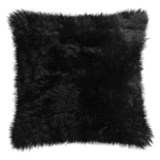 Closeouts. Prepare to swoon. This Bowron's pillow is genuine 100% sheepskin from New Zealand's oldest and largest tanning company -- in business since 1879. Luxurious, long-fibered skins can be snuggled into on your bed, in your car, on the tent floor-virtually anywhere deliriously soft comfort is desired.
Size: 14x14"
Material: New Zealand or Australian sheepskin
Care: Dry clean
Processed and Assembled in New Zealand, China or Vietnam.
Average Rating based on
40
reviews
4.375000
0
5
Verified Buyer

Reviewed by JCPrice from Dauphin, Manitoba, Canada on Wednesday, May 23, 2012

Great item!

Best Uses: Decoration
Describe Yourself: High-end Shopper
Pros: Comfortable, Fluffy

Verified Buyer

Reviewed by triplecherub from the south on Wednesday, May 9, 2012

Love Bowron products! Great vibrant color and great construction and durability.

Best Uses: Cushioning, Decoration, Extra Support
Cons: Small
Describe Yourself: High-end Shopper
Pros: Comfortable, Fluffy, Keeps Shape, Supportive

Verified Buyer

Reviewed by Aussie Dog Girl from Capitola, Ca. on Tuesday, February 21, 2012

Beautiful colors blend well with my furnishings. They are rich, saturated colors, the colors of the ocean in all of it's moods. Contrary to some of the other reviewers, I find the firmness of the pillows supportive and comfortable.

Best Uses: Decoration, Extra Support
Cons: My dogs like them too
Describe Yourself: Midrange Shopper
Pros: Beautiful colors, Comfortable, Fluffy, Keeps Shape, Soft, Supportive

Verified Buyer

Reviewed by cabincozy from Cleveland, OH on Thursday, February 9, 2012

Looks great in my tiny, rustic living room

Best Uses: Cushioning, Decoration
Cons: Dry-clean only
Describe Yourself: Midrange Shopper
Pros: Attractive Design, Comfortable, Fluffy

Verified Buyer

Reviewed by thenomadichousewife from varies on Tuesday, February 7, 2012

enjoying the product. looks nice on my sofa and on the bed as a decorative pillow

Best Uses: Cushioning, Decoration
Describe Yourself: Midrange Shopper
Pros: Attractive Design, Comfortable, Conforming, Fluffy, Keeps Shape

Reviewed by Ms. Zoologist from Waco, Texas on Saturday, December 10, 2011

This pillow has a good, full shape, and is extremely soft. It has sheepskin on all sides, not just the front. The color (Loch) is DEVINE! On a couch or bed with many pillows, it really "pops" and is truly eye-catching! Very glad I made this purchase. Not something I usually splurge on.

Best Uses: Decoration
Cons: Corners a bit rounded
Describe Yourself: Budget Shopper
Pros: Attractive Design, Beautiful color Loch, Comfortable, Fluffy, Keeps Shape

Verified Buyer

Reviewed by Okieshopper from Edmond, OK on Tuesday, December 6, 2011

A splurge but it has paid off in form & function as an accessory for my furniture. The green is versatile enough that it looks good not only on the dark brown leather sofa but also on the taupe loveseat and a black chair. Going with the unusual color makes it stand out wherever I use it, without being obnoxious. Plus it's soft & firm so it makes a nice head pillow or arm support while reading or watching TV.
The zipper allows for easy replacement of the pillow insert or cleaning of the cover should either ever become necessary, but is well hidden.
I'm glad I bought two.
Very luxurious.

Best Uses: Back or arm support, Decoration, Extra Support, Sofa decor
Describe Yourself: Midrange Shopper
Pros: Attractive Design, Comfortable, Fluffy, Keeps Shape, Supportive, Unusual accessory, Versatile color

Reviewed by GreenBear from San Francisco, CA on Wednesday, November 23, 2011

love that these have the wool on both sides. Got ocean (darker and richer than shown on my monitor,and gorgeous!) and loch (as shown on monitor yet also richer) colors for my daughters and lichen (deep rich olive green also beautiful) for our living room. Very snuggly, soft, cuddly, and an amazing price for these! Highly recommend.

Best Uses: Cushioning, Decoration
Pros: Attractive Design, Comfortable, Fluffy, Rich colors, Supportive

Verified Buyer

Reviewed by Glendiggity from Ottawa, Canada on Wednesday, October 12, 2011

These cushions look and feel great on our leather couch. My 2 year old niece loves rubbing her hands and face against the wool whenever she visits!

Best Uses: Cushioning, Decoration
Cons: Needs drycleaning, Not washable
Describe Yourself: Budget Shopper
Pros: Attractive Design, Comfortable, Fluffy

Verified Buyer

Reviewed by Shopper from Richmond, VA on Monday, October 3, 2011

The cover was acceptible but the form is made from very stiff inexpensive looking foam. The items were returned.

Cons: Pillow form is cheap foam