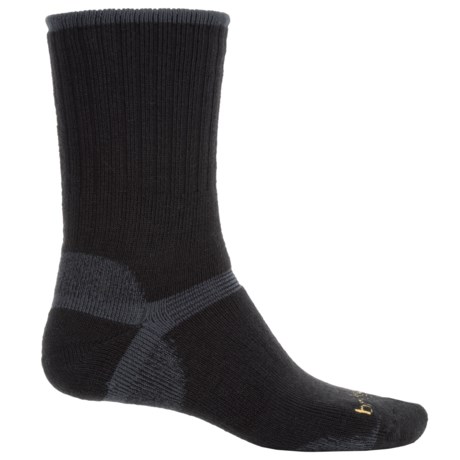 One Excellent Pair, One Very Bad Pair
Verified Buyer
Reviewed by Bob, an Iowa Walker from Iowa on Tuesday, July 21, 2015
I have purchased "2nds" from Sierra Trading Post several times and have always been satisfied until now. I expect imperfections in 2nds, but functionality is a must. My recent purchase of 2 pairs of Bridgedale Midweight Hiker Socks fall into both categories. One pair is excellent. It was comfortable, supportive in both hiking and walking shoes, the color (dark blue) was exactly what I wanted. They washed well and seem to be durable as Bridgedale is noted for. The imperfection consists of one row of fabric on one sock that is off color - no problem for me. The total order arrived ahead of schedule. I give that pair 5 Stars.

The second pair looked perfect until I removed the cardboard packaging, unfolded the socks and found that one of them had a 2.5-inch long gash just above the heel. Perhaps this would have been acceptable if it had been stitched up properly. However, the stitching is crude and left about a quarter of an inch hole with no stitching at all. Unless I can convince my wife to make proper repairs on the gash, I do not think that this pair of socks would survive more that one or two wearing/washing cycles. I give this pair 1 Star. Thus my rating of 3 Stars for the purchase of these socks: 5 plus 1 divided by 2 equals 3.

I do NOT fault Sierra Trading Post entirely for this situation, because pre-unpacking inspection of these socks by me failed to find the improperly-repaired gash, and the socks were clearly sold and labelled as "2nds". I would guess that the STP personal that filled my order did not see this either. However, somewhere up the line, this sock should have been either pulled out and put into the "recycle" bin, or properly stitched.
Similar items and more information in the following areas: