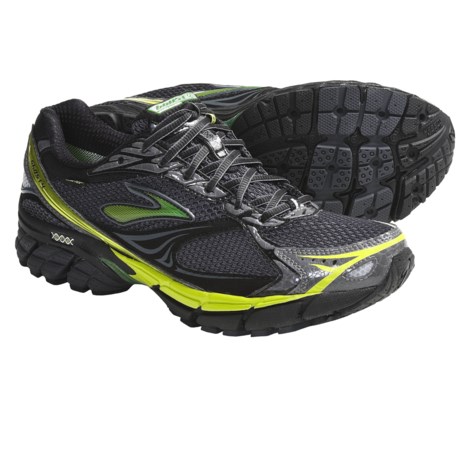 Supportive, cushioned, well fitting shoes with broad toebox-good for people with injuries
Reviewed by Laura from boston on Monday, April 1, 2013
nb-I'm no longer a runner-a lifetime of injuries has caught up with me. I am female (fititing into a men's 9.5) but weigh 175 so am no lightweight. I do wear these (and whatever running shoes I'm in) as my only shoes so they get plenty of wear. I have orthotics (not foam-only ones that take up the most volume-I tell you that for fit purposes) so need a shoe that fits them.

I had been wearing Brooks Dyad but need to buy whatever is on sale that is a neutral shoe so took a risk on these. Ghost and Dyad are both neutral shoes, Dyad has a straighter last so good for the flat footed, and has more room for orthotics.

I feel that THIS shoe is literally healing my 4 year long chronic heel bursitis (which at one point was plantar fascitis-believe me everything but surgery has been tried and failed). It is better --much better--for my heels than the Dyad, to my amazement.

To fit orthotics in these (and the Dyad) you need to take the insole out. In the same size Dyad I have less room in the toes-In these I can almost get away with leaving the insole in under my orthotics (more cushioning=better for my heels) so I'd say these had a wider rounded forefoot with plenty of toe room. I do want to say that these may not fit someone with a high arch as well because the shoe is relatively shallow, (measurably more so than the Dyad). I have a low volume foot that is on the flat side, and I am a woman, and I am taking out the insole and putting in my own orthotic and there is very little room left. I can conclude for other people if you are high arched or have a higher volume foot (ie many men) it may be difficult to wear these with orthotics especially if you have the foam kind that take up a lot of room.

I can conclude (since the Dyad were recoommended by orthotocists and podiatrists to me) and this cushions my heels even more, that this is a great shoe for a heavier runner or someone who needs the padding. It does not feel mushy on heel strike though I am not running in it. I think also that this shoe must have good arch support built into the structure (not counting insole) because I feel more supported -even in my orthotics--than in the Dyad.

ANd of course, this shoe is waterproof. Got caught in a deluge with mini-rivers running in the gutter, which I stepped in. Inside was dry as a bone. Really this is a great deal for a a really good shoe.

Just leave me another 9.5, ok? ;) I'm saving up to buy my next pair in anticipation though these are new. They will be great for the garden in the summer because they won't get ruined (I can't go barefoot or wear sandles).
Most helpful negative reviews
Similar items and more information in the following areas: