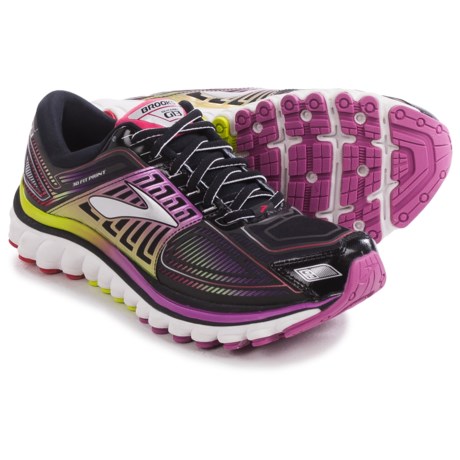 "WHAT IS THE COMPARISON BETWEEN BROOKS GLYCERIN AND BROOKS ADRENALINE."
I have run with the Glycerin and the Adrenaline. The Glycerin (for me) is a little more support, but without feeling bulky. Every foot is different, though, so before you make a purchase, I recommend visiting a shoe store and trying them both on and walk and jog around the store a little. Adrenaline may be more conducive for shorter, faster differences, but of all the Brooks I've tried, I've consistently preferred the Glycerin. For me, it is supportive yet still has that "broken-in" feel.

Originally I purchased both Glycerin 13 and Adrenaline GTS16 from Sierra Trading. I found out Glycerin is much light weighted, feel more cushion and supported when walking, like a glove on my feet and fit true and perfectly . On the contrary, Adrenaline is handsome looking especially viewed from the website, but feels a little heavier, hard, and not 100% flexible like Glycerin does. Eventually I returned Adrenaline and exchanged another pair of Glycerin in a different color. I use one pair at home and leave one pair at the office for walking in lunch hour.

Adrenaline is a more stabilizing shoe and glycerin has more padding. I seem to get along better with adrenaline I think because it has a slightly bigger toe box area. My left foot has a neuroma and swells, I need more room across the toes. I like to have both and switch out. I use adrenaline for my races. Hope this helps.

The MAJOR difference is that they are completely different shoes for completely different types of gait. Glycerin is NEUTRAL. Adrenaline is OVERPRONATION/STABILITY. So if you have a neutral gait, you will not want to use the Adrenaline model. If you overpronate, you will not want to use Glycerin. If you have questions about whether your gait is neutral or whether you supinate or overpronate, then before you spend $80-$100 on a running shoe, you should go to store that specializes in running gear and have someone check out your gait. Most good running stores have treadmills and their staff are trained to analyze your gait. They'll put you on a treadmill and watch you run, and sometimes do other observations, and then can tell you whether you are neutral, supinate or pronate.

I have worn both. The Glycerine is by far more comfortable for me. Wider toe box, better cushion and overall better fit.