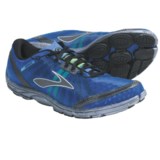 Closeouts. Neutral runners seeking a closer connection with the ground will find it in Brooks PureConnect running shoes -- exceptionally lightweight, flexible and training-friendly cushion.
Average Rating based on
21
reviews
4.523809
0
5
Reviewed by JJ from Indiana on Saturday, September 14, 2013

These shoes are very light and have a unique arch. I like these so much that I purchased two pairs...

Reviewed by Cu Chulainn from Kansas City on Thursday, September 12, 2013

Easy and fast transaction for the best running shoes I've ever owned. They were such a good deal, I considered buying two pair.

Reviewed by Monika from Colorado on Saturday, September 7, 2013

I bought these for my son that is in cross country. He has over pronated feet and when I read the description I thought it said it was for helping that, but they did not help him. He says they feel fine, but he did get a heal spur. Need to be more careful the next time.

Reviewed by david from il on Wednesday, September 4, 2013

it does run a little small, not much though. i wear an 8 1/2 and that's what i ordered. it fits a bit snug but not too uncomfortable to wear. i justwear thin socks and they are fine. lightweight, good support, i would buy again.

Reviewed by Rocky Mountain Mom from Colorado on Wednesday, August 28, 2013

The first pair was a wee bit too tight for my husband so I exchanged the pair for the next size up. Unfortunately, it was then too long in the big toe area.

Reviewed by Matt from Indiana on Monday, August 26, 2013

These shoes are my first experience with minimalist shoes. As I have upped my training miles and pace, I started suffering shin splints and other leg muscle pain. I bought these shoes to try to get back to a Brooks shoe, and hopefully find releif for my overtraining aches and pains.

The shoes are tight across the top of the foot, may be my inexperience with these type of light-weight shoes, but with some adjustment to the lacing they fit just fine.

Most immprotantly, my shin splints did clear up with these shoes. The cushioning and natural stride have been a great benefit.

I will seek another pair of these shoes, or latest equivalent once I wear these out.



Reviewed by NorCal hiker from California on Tuesday, August 13, 2013

This is my second pair of these shoes - they were my gateway to minimalist running shoes. They are neutral shoes that are very minimal while at the same time falling short of a true barefoot shoe. They have a nice layer padding in the soles which is mainly where they differ from a true barefoot shoe and they also have a 4mm drop. I generally prefer a 4mm drop in my trail shoes and a zero drop in my road shoes but it's not a big deal for me. The uppers are very breathable and the shoe is very light. The main downside of these shoes is they are a bit narrow (and I have normal width feet) and not as wide in the toe box as for example most Merrell shoes. All that being said I just bought my second pair.

Reviewed by Snaggs from West Sacramento CA on Saturday, August 10, 2013

I purchased BPC shoes for women and loved them! unfortunately I was not able to find another pair in my size in women's shoes so I searched in mens and found that they (men) were a little slower in purchasing this fantastic shoe so I did the conversion chart and tried on my husbands and purchased two pair of shoes. They not only fit perfect they look great. I have a physical injury and I need all of the help I can to walk daily and these shoes are my ticket. I will continue to buy them and shop Derailed.

Thank you for Derailing me! My whole experience with Derailed was awesome....delivery was quick and both items perfect,,,and of course the savings were fantastic. I will be shopping for more bargains with
Derailed.

Reviewed by Diane from Indiana on Thursday, August 8, 2013

Purchased one pair at Retail and found them here for > half off!!!! Bought 2 more! Thanks for the Great Deals STP!!!!

Reviewed by K from C-Town on Tuesday, August 6, 2013

The only thing I would change about this shoe is the color. Otherwise its one of the best road shoes - if not THE best road shoe - I have ever worn. I bought another pair on STP after a week of running in them. Watch some of the YouTube reviews of this shoe for a more in depth review - there are some good ones. Just came back here to give the PureConnect a thumbs up, and say "Thank You" to STP for yet another amazing deal!