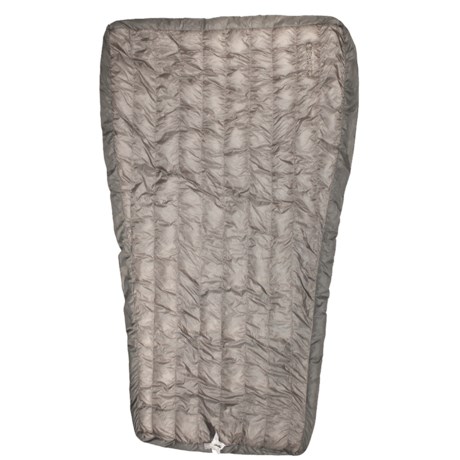 One size does not fit all
Reviewed by Igor the Igor from California on Sunday, April 2, 2017
I bought two of this quilts recently - for me and for my wife... Quality is really good – it is very lofty, fabric is incredibly nice to the touch, stitching is perfect. They did a good job to decrease drafts – there are baffles all over the perimeter. So first impression was very positive.

But there are two issues I found after testing it.

1. I wish there will be "large" size available. My wife is 5'10" closing size 8-10 – and quilt is roomy for her. I'm 6'3" and it is short – in description it was mentioned it fits up to 6', so no complains here. But I'm 44" in chest I wish it will be wider – when I lay on my side and cover my shoulder it is long enough to touch the ground, but I'll be on sleeping pad or have puffy jacket on me – it will leave gap. It is still usable either if you do not cover your shoulders and sleep in a puffy jacket or if you sleep on your side and do not straighten out your legs completely, but I wish it be 3" longer and 3" wider.

2. According to my digital kitchen scales weight is 440g for the quilt – it is 15.5oz, not 13oz. If you add stuff sack coming with it (13g) – you will get a pound exactly. This is true for both of my quilts.

Overall – very nice quilt if size is right for you and 2.5oz overweight is OK.

Most helpful positive reviews
Most helpful negative reviews
Similar items and more information in the following areas: