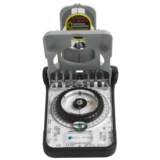 Closeouts. Orienteer like a pro thanks to the Brunton Eclipse mirrored compass and its simple eclipse circle-over-circle alignment system and fast setting needle. Other features include three inclinometer systems, map magnifier and field reference cards.
Average Rating based on
19
reviews
3.315789
0
5
Verified Buyer

Reviewed by Rider Ric from Tennessee on Sunday, July 10, 2016

This is a good compass there is one short coming with the one I received, the detents that hold the mirror for sighting are very weak and do not hold at the proper angle. This is fixed by using a finger to align the mirror and hold it at the proper angle. Outside of that it works very well. I wish Brunton had made the case out of metal (brass) but for a modern compass it is as expected.

Verified Buyer

Reviewed by VT to OR from Oregon on Tuesday, April 12, 2016

Have not gone out with it yet, but it came in great condition and at a great price.

Verified Buyer

Reviewed by Lost Leader from North Carolina on Tuesday, April 12, 2016

I had read other reviews that said these arrived broken, however I thought with a $40.00 compass there was no way. Boy was I wrong, the needle was broken and floating inside and the thing looked like it had been used for years. Piece of trash. I bought a good Sylvia. Sierra Trading Post was excellent on the return, no problems and quick credit.

Reviewed by SRC from gardnerville, nv on Sunday, April 10, 2016

Circle in circle, uggg. I ended up using the line and subtracting 180.
Setting the declination is not easy if you want to be accurate.
The needle has a tendency to shift off the pivot when jiggled so you need to shake to get it to spin freely.
If you don't hold it very level, the needle will drag on the bearing alignment as you rotate the ring.

but it does work.

Verified Buyer

Reviewed by trobertson from Oregon on Monday, March 28, 2016

I've just started to learn to use a compass and so far I'm pleased with this model.

Verified Buyer

Reviewed by bob from Georgia on Friday, February 6, 2015

The compass seems to be a good compass with one major flaw. It had a large air bubble in the vial which effects accuracy. Sent back to company for replacement.

Verified Buyer

Reviewed by joez from from Alabama on Wednesday, January 7, 2015

I bought one of these a lifetime ago. I bought this one to give my teenage son. In the woods, cell-phone reception for the GPS is non-existent. So, a compass has its uses. This is a very high quality. I paid more than twice this price for one in the 1970's.

Verified Buyer

Reviewed by Lousy Laura on the trail from Arizona on Friday, January 2, 2015

I had one of these back in the day. Best compass I ever used. That one was damaged in a move and so I replaced it. Now please understand that Sierra Trading Post handled the order perfectly; I have no complaints against STP. The compass was junk. Here were the troubles:
1. The rotating capsule was so tight to the baseplate that turning it was very difficult. I could, with some difficulty, set a course. Trying to rotate the capsule to take a bearing was impossible.
2. The mirror assembly was floppy. The detent would not hold it in position to sight the capsule markings. Therefore sighting was not fully possible in that there was no way to line up the circles with compass at eye level.
3. The company (Brunton) had an attached sticker telling of a free map download from National Geographic. That sticker was applied not to the clamshell packaging. The sticker was on the mirror! And they used an inappropriate sticker type with permanent adhesive. As I pulled it off two things happened:
A. Much of the sticker stayed on the mirror.
B. The mirror pulled off the compass!
4. The mirror had been barely glued to the compass! The mirror was going to come off at some time, sticker or not.
5. In general, the compass was poorly made. The plastics were thinner and / or cheesier than before. The compass felt cheap and lousy in my hands.
Brunton used to make premium products. Eclipse was one of them. No more. I would strongly recommend against this product, and against Brunton in general. I did not return it. It is by now in its natural environment: a landfill.

Verified Buyer

Reviewed by RIDGERUNNER from Knoxville, TN on Sunday, December 21, 2014

Great compass. Comes with nice instruction booklet. High quality.

Verified Buyer

Reviewed by Boondock Bill from California on Thursday, December 18, 2014

Looks sophisticated, yet my field tests with several evaluators using conventional compasses found this model to perform marginally in orienteering and triangulation tests. The compass has some useful features, but they don't merit the added expense in my view.