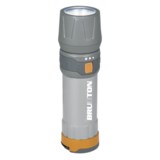 Closeouts. With lots of options in a little package, the Brunton Lamplight 360 LED lantern/flashlight transforms easily from a handheld flashlight into a freestanding or hanging lantern. Omnivore variable battery technology runs off D, C or included AA batteries allowing you to use anything that's laying around.
Average Rating based on
18
reviews
2.722222
0
5
Verified Buyer

Reviewed by Family Joe from Washington on Thursday, December 18, 2014

Everything was, and is, great about this lantern/flashlight... except the batteries that were included didn't work. Once we got batteries that worked in there its been great. We keep this in our emergency kit.

Reviewed by Yooper Jim from Stevens Point WI on Saturday, December 6, 2014

I'm sending back.

Verified Buyer

Reviewed by rbuoncri from Calfornia on Monday, November 3, 2014

The light is significantly larger than I expected. Considering it's light output, I would guess it could be made half the size and weight. I'll use it around the house but not on any pack trips.

Reviewed by Lou O from Pennsylvania woods. on Tuesday, October 14, 2014

Although the idea of Omnivore battery technology sounds good, if you only supply 2 AA batteries, people's first impression is with the 2 AA battery combination. It was dim. OK in the darkest of areas only, but no comparison to just about any headlamp. I was happier when I put a D battery in. On/Off button very difficult to locate via touch.

Reviewed by CPB from Pennsylvania on Monday, July 14, 2014

This lamplight sounds cool, and indeed it was, for about 5 minutes. However, soon after I loaded the batteries and turned the light on, it stopped working. I changed batteries, battery types (I loaded D, C and AA), and the flashlight still didn't work. I'm sending this back and requesting a refund. There's no reason a simple piece of equipment like this should stop working after 5 minutes of use.

Reviewed by Tri-coach from California on Monday, March 10, 2014

For an LED light it is not the brightest, but it has a cool dual function. I think it was worth the money and I am enjoying it

Reviewed by eric hiker from Colorado on Thursday, May 23, 2013

Another reviewer mentions that the AA battery system doesn't work well. I have to shake the light a few times to get it to come on. The light is not quite lantern quality brightness. So many good deals at STP--skip this item.

Reviewed by Mr. Pink from California on Saturday, April 20, 2013

This is a great flashlight with a solid buold. It quickly makes into a lamp and provides two ample levels of light. Small enough to stick in a pack, strong enough to last a long time. Cool feature: it can take AA, C, or D baterries!

Love this light - I bought 2!

Reviewed by ejeep from lawrence on Thursday, April 18, 2013

this is a great light with lots of nice features, don't expect it to dazzle you with brightness though. But it does get the job done

Reviewed by John from Illinois on Thursday, February 28, 2013

I use AA and AAA batteries in here and they do not work well at all. The spring is too weak and the batteries disconnect at the slightest movement - it is also impossible to actually get three AAA battery in there, it will never happen.