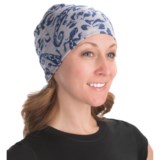 Closeouts. There are 12 ways to wear Buff's UV Buff CoolMax® headwear, all of which transition from winter to summer and provide the comfort of soft, moisture-wicking fabric.
Average Rating based on
64
reviews
4.828125
0
5
Verified Buyer

Reviewed by suZQ from Baltimore on Monday, July 10, 2017

Good length, stays put, great for blocking wind

Verified Buyer

Reviewed by Koyuk from Massachusetts on Saturday, June 24, 2017

I haven't checked it out for UV, but it is light weight and keeps the black flies away from my neck.

Reviewed by Anne Marie from Buffalo NY on Thursday, May 18, 2017

I use this under my helmet for outdoor cycling. It really does keep my head overall cooler, and absorbs the same amount of sweat if not more than any of the other of wide variety of sweat-absorbing headbands that I own. After my ride I scrunch it up like a cute headband. When the weather turns cooler it will make a great neck gaiter as well for when it's chilly but not cold enough for a fleece warmer. I have two of the "half" buff headbands too which are good for sweat absorption on shorter or cooler weather rides. I am buying at least one more of these!

Verified Buyer

Reviewed by tight loops from SoCal on Wednesday, May 17, 2017

Buff is good quality. Material is heavier (better) than other buffs for similar price.

Verified Buyer

Reviewed by Hayden the Hiker from North Carolina on Monday, May 8, 2017

I am an avid hiker and I use my Buff CoolMax headwear as a headband to absorb sweat and a neck gator when driving with my sun/moon roof open when its chilly. I have a bunch of them in cotton, CoolMax, and wool. Essential outdoors wear to have, and it's weightless in a backpack too!

Verified Buyer

Reviewed by PuddleSplasherPDX from Portland, OR on Wednesday, May 3, 2017

I got this Buff for my husband. It's his 3rd and he loves that this one is CoolMax and UV blocking. As someone who is red-haired and light skinned a lightweight protection against sun and wind is just what is needed. He can wear this one year-round and in a variety of ways. He's declared he may need a couple more. :)

Verified Buyer

Reviewed by Beach?? from Charleston on Monday, April 24, 2017

Multi use and perfect for the coastal south
Thanks for carrying this line??

Verified Buyer

Reviewed by poodlegal from Cali on Sunday, April 16, 2017

I wear them to keep the sun off my neck-AND they have the nicest prints! Good for hiking,headband and sweat wiper in the gym,etc.

Verified Buyer

Reviewed by ma monde from korea on Saturday, April 15, 2017

good

Verified Buyer

Reviewed by Sharon from Central Pa on Friday, April 14, 2017

I bought 2 of these to protect my hair from the sun while doing yard work. They stay put and the light colors reflect the heat, hopefully this will remain the case when summer heats up to the 80's and 90's. They also mmm machine wash and dry.