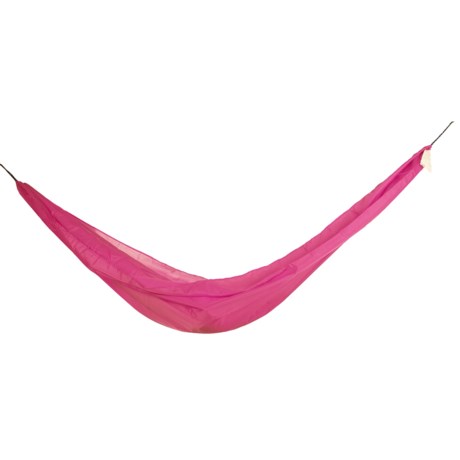 It works!
Reviewed by River Runner from Maryland on Wednesday, September 11, 2013
This is a perfectly functional hammock. I slept in it a few nights ago, and it was certainly more comfortable than sleeping on the ground without a sleeping pad. Unlike a tent, you can put it up anywhere you can find two trees about 9-12 feet apart, regardless of whether the ground is level or rocky or wet. However, in order to be useful for camping when there's a possibility of rain, a tarp would be necessary, and it's hard to find lightweight ones that have sufficient coverage.

Also, keep in mind that this hammock does not include any straps. I used one inch tubular webbing, which you can purchase by the foot at any store that sells rock climbing gear (eg. REI, EMS, etc.). Two 12-15 foot lengths should be sufficient. For that matter, 1/2 inch tubular webbing would be more than sufficient and weighs very little. Just be sure not to use overhand knots in webbing because they are very difficult to untie once weighted. I prefer to use figure 8s since they are stronger and easier to untie.

The bottom line: This hammock works. It's nothing fancy, just a piece of polyester fabric with a loop of rock climbing accessory cord run through each end, but it's lightweight, functional, comfortable, and versatile. I would give it 5 stars if it came with straps and an inexpensive, lightweight rain fly was also available.
Most helpful positive reviews
Most helpful negative reviews
Similar items and more information in the following areas: