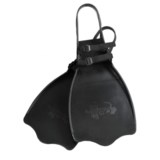 Overstock. Kick Tube fins from Caddis take you right to the action conveniently and comfortably. Guaranteed to float in case you kick out of them.
Buckle style
Weight: 2 lb. pr.
Material: composite and synthetic
Overstock. USA.
Size: One size fits 6-13, adjustable
Average Rating based on
36
reviews
3.833333
0
5
Verified Buyer

Reviewed by Flyphisher from Deschutes on Sunday, September 13, 2015

they work but adjustment fit is cumbersome at first adjustment. Needed something for quick trip, these got it done. Decent for entry level lake tubing. Do not use in a flowing river like the Deschutes

Reviewed by Gary from Denver on Saturday, August 15, 2015

Used these for the first time today. The plastic around the feet where the buckles attach is stiff, this prevented the buckles from really getting tight. The buckles in themselves need upgraded. They barely could hold and the straps over time loosened. And once they did it made for slow moving day. The brightside from the extra work is my quads are well defined. For 13 dollars I won't return but will shop for different buckles if anyone has suggestions please help..

Verified Buyer

Reviewed by Mr. John Day from OR on Wednesday, August 5, 2015

Caddis usually makes some pretty quality stuff, however these seem to just be lacking. They don't have the logo on them as shown in the picture, which leads me to believe they're seconds. Which is fine because I just need them to function, and didn't cost me full price. The straps are possibly the biggest flaw, they're short and flimsy. Pretty cheap. But replace them with some paracord or rope and they'll work Alright. Because I wanted them to fit over my boots they are worth it, but for the price my next pair may just be snorkel fins for summer kicking.

Verified Buyer

Reviewed by Flyguy808 from Michigan on Monday, June 15, 2015

As usual, another flawless transaction from Sierra Trading Post . They really know how to make a shopper feel at home, from the percentage off offers, to the rewards for giving reviews, to having the best items I am looking for every day! These fins are a perfect complement to my float tube, and after a full day on the lake yesterday, I can say there is not a single thing that I don't like about them. I was a little concerned with losing them due to buckle failure so I fashioned a DIY leash in case I ran into trouble. But the fins float if the buckles came loose and the buckles held strong all day long so I had no issues. Thanks Sierra Trading Post!

Verified Buyer

Reviewed by westerner from NE Oregon on Tuesday, November 25, 2014

These are standard kick fins that ought to hold up well. The lacing system uses straps rather that shoe laces so will have to wait and see how well it works to keep the fins in place. This item would make a great back up set of flippers.

Reviewed by Brian from Massachusetts on Friday, October 3, 2014

The buckles are of extremely poor quality and weak.

Reviewed by iamamultitasker from Northern California on Tuesday, September 9, 2014

I have 4 pairs of float tube fins and these are by far the worst. They don't push much water and it is extremely frustrating to kick like crazy and barely move your tube.

The only advantage I see with these is that you can wear wading boots with them. Therefore, these fins might actually be OK for the relatively new hybrid pontoon boats that allow both kick fins and oars. Use the oars for rapid movement and the fins for trolling or maneuvering. You can float down river and take these off to wade fish.

Verified Buyer

Reviewed by Jim in East Lansing from Michigan on Tuesday, August 12, 2014

Fins only work if you can keep them attached to your feet and can't be enjoyed if you're continually worried about them coming off. I don't really have much to say about the non-strap part of the fins. I guess they were ok. But I could tell from the moment I put the whole assembly on that the straps were going to be a problem and they definitely were. They couldn't be cinched firmly without the entire buckle coming apart and kept working themselves looser without even kicking hard. "Guaranteed to float in case you kick out of them." They need to replace the "in case" to "when". Fortunately, it was easy enough to push a standard backpacking strap with a much more secure one piece mechanism through the holes and use those instead. I'm thinking three stars is a fair deduction for having to modify the product to make it work.

Verified Buyer

Reviewed by Geckostev from california on Tuesday, May 27, 2014

I bought these because they are inexpensive and work better than boots alone. They easily fit over wading boots, however they are inefficient compared to good longer fins. I need to lean back in my tube to extend my legs well enough to generate power, which lets water enter my waders through the back. Perhaps these can be left on and don't get in the way as much as longer fins in shallow water, but I wouldn't want to depend on these in faster moving water or windy conditions.

Reviewed by JW from Oregon on Thursday, April 18, 2013

Appears well designed, apparently floats, and the harness to the boot secure.