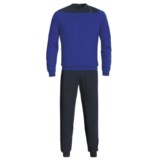 Closeouts. Kick back and get comfortable in Calida's Relax cuffed pajamas, featuring heavy interlock cotton for soft, warm comfort on cool evenings.
Average Rating based on
37
reviews
4.702702
0
5
Verified Buyer

Reviewed by Lynda Koolish from Berkeley, CA on Wednesday, April 8, 2015

Yummy, warm and cozy, with enough opening around the sort of boat neck opening, and with cuffed pajama bottoms, these are mt favorite pajamas ever. I would have liked a less drab color choice (like teal and marine blue) instead of olive/grown and navy, but it's a small price to pay for such absolute comfort. I live in these on days I am working at home and not expecting visitors. I have bought them on three separate occasions, totaling 5 for myself, and one each for my spouse and two adult grandsons.

Verified Buyer

Reviewed by lorepetalum from South Carolina on Wednesday, March 18, 2015

We love the Calida quality. The XXL is generous and fits my 220 lb. guy with room to spare. He likes the cuffed bottoms. Misses having a fly, but we didn't expect one. The knit is called "heavy," but it is not heavy as a fleece would be. Just a beautiful, soft substantial knit.

Verified Buyer

Reviewed by Alex from cincinnati on Friday, March 13, 2015

this is an excellent choice if if feeling soft and warm is want you want when you go to bed.
one added advice is to buy one size larger for added comfort.


Verified Buyer

Reviewed by Bald1 from Black Hills on Thursday, February 12, 2015

Ordered two sets of these and was so pleased I ordered another 3 :) Someone else posted that their hubby wanted cuffs to eliminate the pant legs from coming way up at night. Well he was right.... the cuffs on these indeed obviate such issues.
The material is soft and warm. Stretchy too. Should wear well . Only nit is that hot water and/or too hot a drying cycle temperature WILL shrink these somewhat.

Verified Buyer

Reviewed by Library.Logger from Minnesota on Wednesday, November 19, 2014

I love the feel of the fabric...very smooth, nicely stretchy. I'm a tall woman, and it's hard to find tall women's clothing that isn't totally for 20-somethings, or priced out of my range, so I was happy to find these in a style I prefer. And to the reviewer who said her husband would have preferred the with a fly...I don't miss it at all!

Verified Buyer

Reviewed by Bill from New York on Wednesday, November 5, 2014

No fly!

Verified Buyer

Reviewed by Flying Dutchman from Grand Rapids, Mi on Wednesday, October 29, 2014

I have probably ordered enough of the Calida brand pajamas fronm STP to last my entire life!! They are the best you can buy both from a comfort standpoint and overall fit. I normally wear a large size shirt and briefs, but in Calidas I usually order the XL sizes, just to get the extra relaxing comfort. Plus cotton always shrinks over time, though the Calidas shrink less than other cotton PJs. The Calida Relax cuffed pajamas are made of a heavy interlock cotton fabric and feature long sleeves. They are soft, warm, comfortable and great on those cool winter nights. If you find Calida pajamas in your size on sale, get them!! You will see how much better they feel and wear the cheaper brands. This was another great deal on STP.


Verified Buyer

Reviewed by Haifisch from New York on Tuesday, September 9, 2014

The pajamas certainly are comfortable and (Star Trek aside) look good. There are 2 quirks, however. First, although listed as for men, they have no fly, a small annoyance. Second, while the arms, chest and neck are a perfect fit for my 5' 8" body, the top is long enough to double as a night shirt.

Those issues aside, they are well made and practical. So, when winter comes, I have a new favorite PJ to wear.

Verified Buyer

Reviewed by WillME from Portland, ME on Thursday, September 4, 2014

Attractive colors. Pants are, as usual, a bit flimsy. Top is nice material but a bit tighter than expected. Prefer pajamas to be looser.

Verified Buyer

Reviewed by Crossword Carole from Webster, NY on Tuesday, August 5, 2014

The color is aptly described as "drab", but the fabric and construction are great. My husband loves the banded sleeves and ankles.