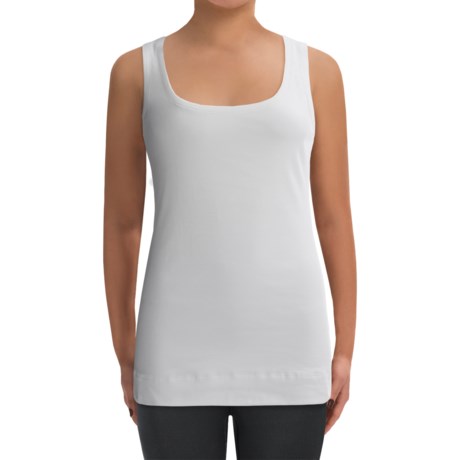 One in Every Color Please!
Verified Buyer
Reviewed by MissMoe from Illinois on Wednesday, December 31, 2014
Yes, I did order one in each color I could get in my size that was still available. A girl can't have too many white, grey or black layering tank tops. And that is EXACTLY what these are great for doing, layering and lounging! The fit and quality of these tanks are fabulous. They are NOT thick or beefy, but that
is a GOOD thing. If they were thick or beefy they would be hot underneath the heavier layers that we MUST wear on the outside to stay warm in winter. BUT, when the spring weather gets here and its coming ladies, give or take 8-10 weeks, these little beauties will be perfect for light layering and then all on THEIR OWN in the summer. The length is LONGER...FINALLY SOMEONE GETS IT! You can't layer or lounge in a tank that crawls up around your waist constantly. The longer length is great on its own or to layer, you decide. Don't let the description of ribbing throw you either. The ribbing is SUPER SUPER fine, in fact so much so that you would swear its not there at all, but IT IS, which gives the garment its structure so its not a thin limp tank...oh how I hate those. Get multiples on these and tuck them away for spring, you can't go wrong on this buy!