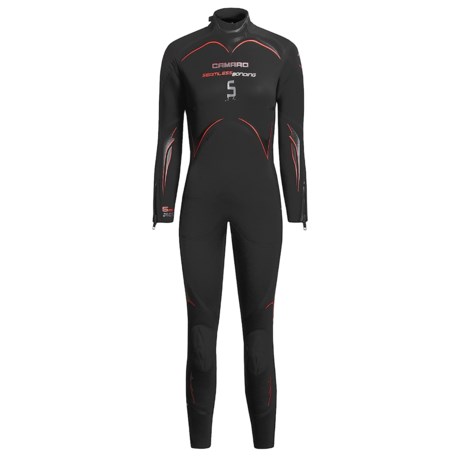 Semi dry much more hard to live with than standard 5mm
Reviewed by dood from New York on Wednesday, November 4, 2015
Got this for the wife because she usually wear 3mm wetsuit on top of a 3mm insta ddry shorty. But she had been complaining on some of the cooler dives (mid to low 70's F) that she was getting the chills, so thought she needs a 5mm with less water seepage. This suit seems heavy duty and a bit stiff. Now I realize 4 way stretch does not mean extended stretch, it just means it does what every other piece of neoprene I ever encountered does, which is stretch in all 4 directions.

Putting it on requires 2 people since it is critical to have the bare neoprene overlap each other, but for scuba diving, you always have your buddy there. Fit wise, the size L seem to fit decently well, there is some airspace under the armpit. She said it is much more constricting than her dual wetsuit, but this is usually expected from thicker wetsuit, especially if it does not have extra stretchy panels. Plus, the neck seal runs real high and tight, which looks like it is for the purpose of having a watertight seal. We will have to see how they are once underwater when the suits is compressed by the water pressure, and whether all the extra effort of putting it on makes her warmer and dryer.

One thing that doesn't fit at all are the wrist seals (didn't check the ankle seal). It seem to be made for a larger wrist. Even when folding it back inward (to create a waterproof seal), it is still way too large, probably allowing gobs of water in. Will have to see if bungee cord, rubber band or aquaseal/contact cement can make the wrist smaller.
Most helpful negative reviews
Similar items and more information in the following areas: