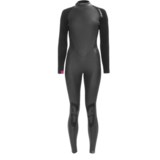 Closeouts. Feminine, fun and functional, Camaro's Lipstick wetsuit offers supple comfort and warmth in the water. The 4/3/2mm design provides warmth, protection and flexibility where you need it most.
Average Rating based on
7
reviews
2.428571
0
5
Verified Buyer

Reviewed by hwanwoong the surfer from south korea on Friday, November 7, 2014

The arm width is different and thighs too thick.
Making the same mistake happened.
I am so disappointed because I thought the return.

Reviewed by Walker from Salt Lake City on Thursday, October 2, 2014

I bought an XS being 5'2" 95lbs and the length was good, but that's about it. The neck was ridicuously tight and I feel like I have a very small neck. I could feel it restricting blood flow to my head which made my eyes go a little crazy. The sleeve and leg openings are quite tight, felt more like wearing a drysuit with gaskets, this makes it very difficult to remove from the feet. The arm pits down to the forearms were huge, lot's of extra space that makes it feel awkward and ineffective. The worst part of this suit was the crotch! It gives you a total melvin which it visible and very uncomfortable and make me feel like I'm being violated! The only way I could walk around was to walk like a cowboy, legs far far apart. I tried to remedy this buy wearing my shorty wetsuit underneath, but still I felt that lipstick wetsuit riding up into my crotch. I will be sending this back and I never want to try a Camaro wetsuit again. Easily the worst wetsuit I've ever tried on. I have a bodyglove shorty wetsuit that feels amazing compared to the Camaro.

Reviewed by #twinnies from Loveland, CO on Thursday, September 19, 2013

As in previous reviews, the neck is too tight even tho the rest of the suit fit overall well, arms a little big at the elbows is all. I remedied the neck by taking to a seamstress who is also a diver & she trimmed the neck for comfort. The reason I returned was after only 4 dives, the reinforced knee area started to separate at the seam. It was a comfortable suit & I was sad to have to return it bc of quality issues!

Reviewed by isabackpacker from San Francisco on Monday, May 13, 2013

I am a size 10 and ordered the 40 and it fits fine. It is well made. I do not use it for diving, so I can't speak on the warmth.

Reviewed by TriGirl Miami from Miami, FL on Wednesday, April 10, 2013

It's usually wetsuit optional in Miami, but I've been hanging around triathletes long enough to want to try one out. However, I was not excited about spending upwards of $300, so when this caught my eye I decided to give it a shot. I picked XS, and it fits perfectly. (I'm 5'2" and 115, but very small overall.) Like any wetsuit it takes a little effort to get in and out of, but it has kept me warm in the cold pool water and made me look forward to swimming. Definitely a good deal, and the little lipstick kiss on the back is a nice touch.

Reviewed by Between Sizes from Washington, DC on Monday, March 4, 2013

This would be a 4- or 5-star review, and I would not have sent the suit back, except for one design flaw. The neck opening is too narrow and the material at the neck is too stiff. When I zipped the suit closed, I had a hard time breathing and I thought I was going to pass out before I could get it unzipped - I honestly think it pinched off the blood flow to my brain. I don't have a particularly thick neck, and I have worn other (rented) full westsuits that fit my neck just fine. The suit itself is great - very stretch fabric, easy to get into and out of. So if you have a skinny neck, this would be a great buy.

Reviewed by diaulula from Vancouver BC on Friday, May 18, 2012

Camaro suits do have odd sizing for the arms and ankles. This suit does as well. The rest of the suit fits great, but the lower arms have an excess 3 to four inches of width, which will allow water ingress.