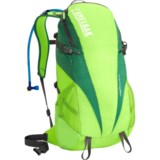 Closeouts. Hike over the river and through the trees with the CamelBak Highwire 20 hydration pack, which carries three liters of water and a day's worth of gear in the main compartment.
Average Rating based on
13
reviews
4.384615
0
5
Verified Buyer

Reviewed by Adrian from California on Wednesday, March 11, 2015

took this on a 15 mile hike and it worked fine and had enough space in the pack to carry supplies and snacks. Awesome for day hikes

Verified Buyer

Reviewed by Angela from Pennsylvania on Saturday, November 1, 2014

I ordered this for my boyfriend's birthday and was pleasantly surprised by what an amazing pack this is. The water bladder has it's own compartment so you don't have to worry about piercing it with cargo. It seemed roomy enough to carry a day's worth of food and hiking supplies. I'm also excited about the 3L water bladder. This is the perfect camelbak for day hikers. It's affordable and looks like it will be durable.

Reviewed by Rachel from Portland, Oregon on Friday, July 25, 2014

I needed a mid-size daypack and this fit the bill very well. I took it on a quick hike up to Angel's Rest in the Columbia River Gorge last weekend with 3L of water, a rain shell, and some snacks and it was very light and comfortable. It has the new Antidote reservoir which is a definite upgrade from the last design --the baffling is the best. The back panel is fairly breathable but it's not as good as some of my larger CamelBak packs, although that's to be expected. The removable waistbelt is a nice feature if you're not packing much.

Verified Buyer

Reviewed by Jeffery from Texas on Wednesday, July 23, 2014

I bought this pack for my teenaged Son prior to taking a 5 day trip to Colorado. We climbed three 14ers on consecutive days, so the pack got a good break in. The narrow shape, breathable shoulder straps and efficiently designed water bladder were all mentioned as improvements over his former "school backpack". I am looking to update my own pack after seeing his in action.

Reviewed by Hhelixx from Florida on Wednesday, July 23, 2014

Geared-up early this AM for a Wyoming day hike with my brand new CamelBak Highwire 20 Hydration Pack from Sierra Trading Post. Filled the bladder, loaded it back into the pack and it proceeded to soak the pack and the bed it was sitting on. The seal around the fill port was leaking - either the o-ring material took a set and is misshapen, or the o-ring design is flawed, or both. Tried reversing the o-ring which did slow the leak but no matter how it was positioned the bladder would not seal. So left the bladder in the kitchen sink and loaded a couple of 1 liter bottles into the outer mesh side pockets, which appear to be ideally suited for the purpose, and headed for the trailhead. About 30 minutes into the hike the chest strap which connects the shoulder straps came loose. The stitching that held the strap to the male side of the coupler had broken. Have purchased a lot of great stuff from STP over the last 15 years but this pack disappoints.

Verified Buyer

Reviewed by Steve from Pocatello, Idaho on Sunday, July 20, 2014

Just the right size for a day hike or a Mtn. bike excursion, it fits well and is quite comfortable.

Verified Buyer

Reviewed by Cori from Vancouver, WA on Wednesday, June 25, 2014

I purchased this primarily for day hikes, so I wanted something lightweight yet had storage capacity for snacks and gear for me and my dog. This pack definitely fits the bill! It's a little longer than expected, but is very light and streamlined. I love the separated pockets and the water bottle pockets on the outsides for quick access to small items. I would definitely recommend if you are looking for a light pack, it's nearly 1 lb. lighter than the other 100oz options.

Reviewed by Becca from Missouri on Wednesday, April 9, 2014

This pack fits comfortably and holds everything essential for a full day hike. It's lightweight and versatile. Excellent!!

Reviewed by Kait on the AT from Pennsylvania on Friday, March 14, 2014

I love this pack! It has plenty of room for my stuff and my 3.5 year old sons for a day or weekend hike. I also really like that it has water bottle holders on the sides for water or snacks for faster access. Also, the zipper compartment for keys is great! I always fear losing my keys, but the hook inside the zippered pocket gives me that extra piece of mind knowing my keys and phone aren't going anywhere that I don't want them to! I really suggest this pack for anyone who travels light and wants easy access to their water.

Reviewed by KrznKrn57 from Santa Clarita on Thursday, January 23, 2014

This hydration pack has met all my needs. I've had it out for 2 lengthy day hikes and it was ideal. Very easy to insert and remove the pouch (either full or empty) and all of the extra compartments make it a fully-functional hikers pack. With the incredible price I paid from STP, it gets 5 stars from me.