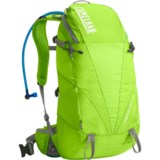 Closeouts. Hike over the river and through the trees with CamelBak's Highwire 25 hydration pack, which allows you to carry three liters of liquid and a day's worth of gear in the spacious main compartment.
Average Rating based on
12
reviews
4.250000
0
5
Reviewed by allweatherwalker from Wisconsin on Thursday, July 24, 2014

I just finished an 8 day trek in Peru and really loved this pack. Plenty of room to store all your stuff and having 3 liters of water made it possible to trek all day without refilling.Highly recommentd this product.


Verified Buyer

Reviewed by CoRaeofSunshine from Colorado on Friday, April 11, 2014

Haven't actually been able to use this pack hence the 4 stars but I am really excited to. I'm 5'2" and honestly I could easily carry everything I need for a day hike plus. I plan to use it for snowboarding as well since it is big enough to fit a jacket in if you get hot and some food as well water. I'm really excited to use this pack for the summer as well! Overall very happy with my purchase!

Reviewed by The Hungry Cardinal from SF Bay Area on Monday, March 31, 2014

I needed a daypack with a frame and a decent waist belt to take the load off my shoulders. This one has worked great so far for hiking, (unstylish) days in the city, and even car-less grocery shopping trips--I don't even feel the gallon of milk and other heavy items when they're stowed in this pack! Other nice things: it's narrow enough that it doesn't chafe my arms when I swing them as I walk (although I've really only ever had this problem with dirt-cheap packs); the green color is great for visibility; and my admittedly very small cellphone and bus card fit nicely in the belt pockets. Plus, it's a better deal than the other "hydration-compatible" daypacks I was looking at, since it actually includes the hydration bladder in the price. Final accolade: I let my boyfriend use it for a day and he liked it so much he went and bought one for himself!

The only issue that bothers me is that the main compartment doesn't open very wide, so it's sometimes difficult to fit bulky items inside. But that's only worth -0.5 stars, really.

Oh, and I have no idea what that one reviewer was talking about, propping the hydration bladder open to air dry. I could not for the life of me get it to air-dry fully. I guess I'll just wash it well between fillings.

Reviewed by Pistel from Washington on Thursday, March 27, 2014

Great pack for day hikes. Pleanty of room for everything you could need. Great quality, lives up to the camelbak name. Very durable material. Pack is nice and streamlined, so you don't feel bulky. Love the amount of space, great for day hikes with my family. Holds plenty of water, plenty of space for snacks,extra water, rain jacket, camera and anything else you might need. The colors are nice as well, not to flashy, but still looks sharp.

Reviewed by Nice Grandma from The Bitterroots on Thursday, November 21, 2013

Very pleased with this backpack. Lots of roomy compartments & a nice stretchy fabric on back for soft stuff. I really like the zipper compartments on the waist band. I have another pack, without the camel back, that has these extra compartments & it's hard to find packs like this. Highly recommended. I purchased this one as a Christmas present for our grandson.

Reviewed by Blooming_annie from Colorado Springs, Co on Friday, October 25, 2013

When I first saw this out of the box I thought it looked kind of weirdly unconstructed. And I immediately wished it had more pockets. However, I've used it a few times for a variety of day hikes and found it really does meet my needs. I can cram some snacks and a cell phone/camera into the pockets on the hip belt and a rainjacket, down vest, and fleece into the main compartment. My lunch goes in the pocket at the top. Hat and gloves igo in the large outside pocket for quick access. Then I still have the water bottle holders if I need some extra (though not very secure) stash space. It works. I'm 5'6" and 125 pounds and it fits well.

Reviewed by Tom from Pittsburgh, PA on Tuesday, October 22, 2013

I'm a regular cycle commuter in Pittsburgh, PA (2-3/week, year round, +- 16.8 mi. per day) and I've been looking for good capacity, bright colored backpack for a long time. I've tried REI, Osprey, Marmot and others. I pulled the hydration system right away as it's not necessary for my commute. It would probably be good for a day trip but I'm still an old-fashion water bottle guy. Pros: The capacity and color of this pack are perfect. Carries my repair pouch, pump, tube and base layer for work with room to spare but isn't so big that I'm tempted to bring work home by bicycle. The hip-belt fit, comfort and pouch pockets are perfect. When properly adjusted, the pack rides on my hips and I don't even feel it on my back. The back padding and shoulder straps are perfect with great adjustments and they somehow breath well. The plethora of pockets is a bit much but I've used many of them. Now for the cons: Add a horizontal loop or clip for a tail light. Remove the ice axe loops. Change the hip-belt belt material or the buckles because they constantly loosen. Cut back on the weight of the fabric somewhat, lose the water bottle pockets on the sides and maybe add an enclosed rain cover. At my age and weight (55/215) it's not like I'm looking to shave grams. I'm looking for the best use of the weight I carry so I'm happy and ride more and cut weight by the pound. So what's the point of all these suggestions for last year's discontinued model? Maybe someone will incorporate the changes and bring it back better than before as a cycle-commuter specific model.

Reviewed by Steve from Michigan on Wednesday, October 16, 2013

overall very happy with pack, my only complaint is that it felt a little small on my back. I am 6'2" and 230 lbs. It felt like it was riding up high, i did adjust the straps but overall very good.

Reviewed by Jeff S from Wisconsin on Sunday, September 22, 2013

This is a great hydration pack with a nice amount of extra storage and features. The shoulder straps and waist belt are nicely padded. I also bought it for the high visibility color, because I will be using it as my hydration pack for bicycle riding. Getting at the Sierra Trading Post price was a huge bonus, and I got an extra 35% off too. This is an unbelievable deal!

Reviewed by Alexa from Norway on Monday, September 2, 2013

A Camelbak is no doubt a great product! This one I could fit my ice axe and helmet on the outside, for the walk up to a glacier. I liked the strap function and small pocket at the top. However I would have loved if the outside pocket was expendable, and not sawed on to the pack on the sides. That way I could fill the pack and still fit a down jacket on the outside, for easy to reach. The pockets on the waist belt are great and roomy. But because the have to grab everything out of the pack the get to the bottom thing, I can`t use it for glacier day hikes or mountain skiing for one day - which was want I bought it for. I know for fact that 25liters is big enough pack, but this one is not build to suit that fact.