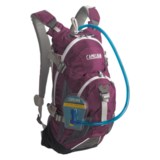 Closeouts. The CamelBak L.U.X.E. NV hydration pack offers the perfect amount of cargo capacity for day hikes, and comes with a 100 fl.oz. Omega reservoir to keep water at your fingertips without slowing you down.
Average Rating based on
51
reviews
4.784313
0
5
Verified Buyer

Reviewed by blackpeppercrackers from Alaska on Tuesday, August 4, 2015

This pack is full of kush little details for the price. Lots of little pockets and a big back pocket that holds an extra layer and snacks for your day hike or bike excursion. The Camelback bladder held enough for me to stay hydrated during a 39 mile bike day. It's lightweight, adorable, and high-quality.

I also tried strapping it on for a 17 mile beach run. It might just be the nature of running with a backpack, but I had to tighten the straps down all the way to minimize the rattling, bouncing, flouncing around. I ended up running in my sports bra with the pack on and the bottom oval back panel rubbed and chaffed my lower back. If I had been wearing a shirt it probably would have been fine though. I think in general people tend not to run with with backpack hydration packs because of their bulk. This is a stylish, comfortable, functional hydration pack that's perfect for sunny summer adventures.

Verified Buyer

Reviewed by cody528 from lawton ok usa on Sunday, May 17, 2015

I got this camelback for my daughter in college. She loves it.

Verified Buyer

Reviewed by Keith from Tennessee on Thursday, April 23, 2015

This pack has many compartments and enough space for most three season use.

Verified Buyer

Reviewed by KB Diver from New Hampshire on Saturday, April 4, 2015

I bought this pack to go horseback riding in Arizona to ensure I had enough water. This pack is as well made as I've ever seen. First of all, its primary function, to carry water, works very well. The bladder is easily filled and locks tight, so there is no chance of leaking. The mouth piece has a valve that allows you to shut it off, again no leaking. When open the valve lets you get water in sips or gulps. This water was cool all day long, long after bottled water got unpleasantly warm. Maybe in 90 degrees it would not have been so efficient, but it was great for a four hour trail ride.
Next the pockets. There are large, relatively, places for a light shirt, plus smaller places for wallet, energy bars, cell phone, etc. Everything can stay available without being in a pile on the bottom. A hook for keys is there as well.
Finally and maybe a small thing, but there are elastic loops at the end of each strap that allow you to gather up loose strap ends so they are not flopping around. The chest and waist strap are comfortable and the back support lets you carry it all day without discomfort.
As an old backpacker, I'm very picky about packs, and this one is worth every dime.

Verified Buyer

Reviewed by kharoot from Vermont on Monday, February 9, 2015

Very comfortable to wear. Lots of special options for storing gear. Small enough to not over pack.

Reviewed by CoRaeofSunshine from Colorado on Monday, June 2, 2014

I originally got a different camlebak but it was wayy too big for me. Im a short femail (5'2) and have used this for my past few hikes. It is AMAZING. Perfect amount of water for a long day hike and it had enough room for me to pack a light jacket and both my bf and I a small lunch. I was also able to put my treking poles on the side of the pack and tighten the traps so they didnt budge the whole 10 mile hike. The straps were at a great level and it even has a little snap for your water tube to go in so it doesnt swing around at all.
All in all if youre looking for a great day hiking hydration pack I would recommend this a million times over, especially since STP has such great deals and customer service :)

Verified Buyer

Reviewed by Brandyjane1947 from Utah on Thursday, May 15, 2014

It looked really big online but ended up being very compact not bulky, I love it. Color is really pretty.

Verified Buyer

Reviewed by Stephanie from St. Louis, MO on Wednesday, May 14, 2014

I bought this camelbak for an upcoming music festival where I will be outside all day for four days. I was worried about how I would be able to consume enough water, until my new camelbak came. Besides the face that it is an awesome purple color and has many handy compartments to hold gadgets, it also holds so much water! My worries have subsided and I am excited about the upcoming trip.

Reviewed by Christine from South Dakota on Thursday, May 8, 2014

This bag isn't as big as I thought it was. However, the expansion on this thing is rather impressive. I've managed to fit multiple notebooks, a rock hammer, camera, jacket, and then some into this pack. Definitely a must-have for single-day trips. The waistband and sternum straps offer the support I was looking for. The bladder size is perfect for my needs. There are plenty of accessory pouches inside for smaller items. The color isn't obnoxious or too plain.

Verified Buyer

Reviewed by Climbing Shanaynay from Wyoming on Thursday, May 8, 2014

I bought this pack primarily for day-hiking and mountain-biking and have only used it for the former thus far, but I'm already a satisfied customer. It fits well to the body and doesn't bounce around. Even with the bladder (which has an ultra-mega capacity) full, the weight distributes well. There are so many pockets and ample space for day-use!