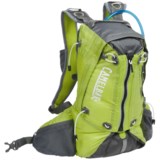 Closeouts. An ultralight multi-sport, CamelBak's Octane 18X hydration pack lets you put your foot on the accelerator, whether you're in the saddle or on foot. Durable nylon ripstop fabric, plentiful mesh and a 3-liter reservoir keep you dry and hydrated when you're pushing your limits.
Average Rating based on
20
reviews
4.500000
0
5
Verified Buyer

Reviewed by High Hill Hopper from Arizona on Saturday, May 21, 2016

Pack great and cinches up great. Only complaint is that the cinch cords are pretty long and all over the place.

Reviewed by Sheena from California on Sunday, April 10, 2016

& it did not disappoint at all! The colorway I got was super cute. Turquoise blue with magenta and silver accents. My friends always spot me from a mile away when we're boarding down mountains. Super versatile and easy to refill. A good amount of pockets - not too many that you forget where you put your things but not so little that you have to jam everything in one area. Very lightweight. I always use my pack for snowboarding or a full day of hiking. Doesn't seem to bother me at all - very comfortable and convenient!

Verified Buyer

Reviewed by Brady from Kansas City on Wednesday, March 23, 2016

This bag is wonderful... It packs in 100 ounces of water in a tight space, gives you enough room for food, clothes/layers, and day supplies/tools, and it's extremely comfy. This bag is perfect for long day hikes, especially if weather is susceptible to change because it's not too heavy but gives you enough additional space for all the extra things you may need. I purchased this bag for ultra running, and my only complaint is that they water sloshes around a little bit when it's full, but most of that can be prevented by tightening the straps appropriately. It's a great bag for a phenomenal price, and I'm working on how I can pack it and use it best for training runs and races.

Verified Buyer

Reviewed by Active Family from Flagstaff on Monday, February 29, 2016

I was looking for a small hydro/backpack with a nice waist strap. This is perfect for what I need. I also really like the color scheme of this pack.

Verified Buyer

Reviewed by runsalot from CO on Saturday, February 13, 2016

This day pack is just the right size for a day of climbing or hiking. Holds 3L of water and plenty of room for an extra layer and food. I especially like the zipper pocket on the waist band flaps for easy access without having to take the pack off. I also like the loops for hiking poles.Can't wait to take it out on it's first hike.

Verified Buyer

Reviewed by hutch1208 from southern indiana on Sunday, June 7, 2015

I purchased this pack for an 18 hr adventure race after trying 3 other pack styles prior to it. At first I thought it would be too sleek/small but the expandable zipper section on the front proved to be enough to fit my low profile bike shoes inside (trail shoes were too big however). I was thrilled with the SIX pockets accessible without taking the pack off! Truely unique and critical for adventure races when you have to eat on the run. Very pleased with the quality of the camelbak bladder and separate section for it. My only complaints would to have a gear organizing section inside the main compartment like most of the other camelbaks have. Secondly, the backpack straps are way too long!! This pack just barely fits me tight enough to run in without the pack flopping around. IMO all packs should have less heavy duty strap (most are 12 inches or longer) and more adjustable strap.

Verified Buyer

Reviewed by Walker from Georgia on Monday, March 9, 2015

Ever since I've recieved my bag It's like my body has never been thirsty. This bag has changed the way I go about my day, allowing me to not have to stop for water all of the time. I simply love my camelbak!

Verified Buyer

Reviewed by Michael Klein from Prescott, Az on Friday, February 27, 2015

After alot of research I chose the Octane 18x pack because of it's features and capacity. I also liked the fact that it expands when you need it to and contracts when you dont. The one thing I could have done without is the whistle on the left side, I would have perfered another hose clamp but oh well. Sierra had the best price and excellent service/shipping, I am a very satisfied customer!

Reviewed by SDG from Los Angeles on Thursday, February 19, 2015

Ok for short day hikes and not filled to its capacity. Twice I went on a longer day hike for more than 10 hours and loaded it to its capacity and it leaked. I think this is a bad design for the camelback with the release on the bottom of the camelback. I have a single camelback with no bottom release that is 10 years old and has never leaked and more durable than this one.

Verified Buyer

Reviewed by Jedo2008 from Chile on Monday, January 5, 2015

Mochila super buena , la recomiendo a ojos cerrados, saludos.