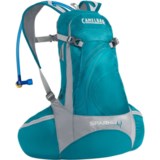 Closeouts. CamelBak's Spark 10HR hydration pack offers ultralight storage and easy organization for female mountain bikers. The 70 fl.oz. Antidote lumbar reservoir keeps the weight where you want it.
Average Rating based on
14
reviews
4.571428
0
5
Verified Buyer

Reviewed by Up North Mountain biker from Northern Michigan on Friday, August 7, 2015

Very nice woman's pack. A little funky the way the bladder fits but it works great. Love the quick connect feature.

Reviewed by Melissa from Harrisburg, PA on Monday, July 27, 2015

This is my first hydration pack and I bought it because a) it's a camelbak which seems to be a good brand, b) the waters sits on your lumbar area instead of the thoracic, c) it's in a cute color and d) it seems like a great deal. Man am I happy I bought it before it goes out of stock!

I just used it this past weekend for a 3-mile hike outdoors after I figured out (with the help of the Q&A section on this website) how to maneuver the chest straps. I'm new to all of this so it took me a hot minute to figure out how to wear/fill this thing. Fits me perfect though and I'm a 5'7" female and it holds a lot of water (perfect for a day hike).

The lumbar aspect of this bag makes a huge difference when you are hiking or biking uphill...where you have to lean forward. So instead of being top-heavy, you are bottom heavy so your hips carry the weight instead of your back. The cushioned portion of this bag that sits on your back is airy and comfortable. The amount of storage this little guy has is amazing. I set my dog's water bottle in the outside, center (non-zip) pocket, which was easy to pull out and put back in. Phone and keys were in the bottom, side pockets that are close to the front and then there is plenty of other little pockets and storage for other miscellaneous items (doggy bags, energy bars, etc.).

Can't wait to use this baby again! =D

Verified Buyer

Reviewed by Winnie from Park City, UT on Thursday, July 2, 2015

This pack must buckle around your waist because of how the hydration bladder goes into the pack. I don't like this. I used it hiking and biking. Both experiences was not a great feeling. Plus the hydration bladder is so very hard to get in and out of the pack and you really cannot fill it up but half way. I can say that I liked that it took the weight off my shoulders but I just could not get used to the waist strap especially while biking. When I would have to get back up on my bike the buckle would hit the bar connector. This might not be an issue for taller women. I sent it back and ordered a different brand and style.

Verified Buyer

Reviewed by Hiker/Biker enthusiast from Chico, California on Tuesday, June 30, 2015

I got this for my mom who is an outdoors nut. I got the men's one for my dad also and they both love them. I was blow away by the great price for such a good product. We will see if they hold up, but I bought myself a Camelback 10 years ago and it was ridiculously expensive but has held up well. Hope these do the same.

Verified Buyer

Reviewed by nneriss from WA on Monday, June 29, 2015

I got this hiking backpack on sale for $50, it was the most worthed money I ever spent for my hiking gears. on top of the built-in hydration pack, this back has plenty of space for your hiking essentials and it's very lightweight! I love it

Verified Buyer

Reviewed by kathyr from Seattle on Wednesday, May 13, 2015

First let me be clear: I Love Backpacks! I have more than any one person could possibly need-or so my husband tells me. I wanted to wait until after a 6-day self-guided bike trip in Umbria and Tuscany to send a review as this is the pack I eventually ended up taking with me while on the bike. I found the size perfect--I was able to put hat, gloves, a windbreaker, snack, sunscreen, ID and small coin purse, and rain jacket in the large pouch and belt pockets. I love the horizontal 2L hydration pouch and my only complaint is that it was a bit awkward to install once full. I never did quite figure out how the side straps cinched in as the pouch emptied so I ended up tucking the sides in, which still allowed me full use of the belt pockets. Once in place and on the back, the backpack was extremely comfortable, and I could not really feel the weight of the water. This is probably the best biking pack I have found so my husband inherited my previous pack, which was also very good but just not the same fit or capacity.

Verified Buyer

Reviewed by Jen from Ohio on Tuesday, May 5, 2015

I got this bag for longer bike rides since my day pack was just a little too bulky and weighted me down. I wanted something light, not bulky, and something able to store the essentials like tools and a jacket. This pack fulfilled this list and more. The straps are breathable, the interior storage is perfect for what I need to carry, the extra pouches on the waist belt are perfect for small items and the helmet carrying system is an awesome additional feature. The lumbar reservoir conforms nicely to the waist and the compression straps are nice to pull it more snug to your body as it gets empty. I did 30 miles with this bag the other day and not once did I feel any discomfort or heaviness.

Verified Buyer

Reviewed by Deb from Ohio on Wednesday, April 22, 2015

I just received my pack and will be taking it on a trip in May. More details later! It looks like it will be just right for a day hiking trip.

Verified Buyer

Reviewed by Maryann from Colorado on Tuesday, September 16, 2014

I didn't know if I'd be a fan of this new design - the actual water pouch is on the bottom with 'wings' into the sides.

After two rides, I think it's great. The pack feels very light, even with 70 oz of water, there is plenty of room for jackets and spare tubes, and the great color options are a plus!

Verified Buyer

Reviewed by luvtrails from overland park, ks on Wednesday, August 13, 2014

This is easy to use, holds perfect amount of water and very functional pack space for other items. Back is ventilated so I felt my back can breath. Great item at a great price with Deal Flyer! Biking and hiking uses.