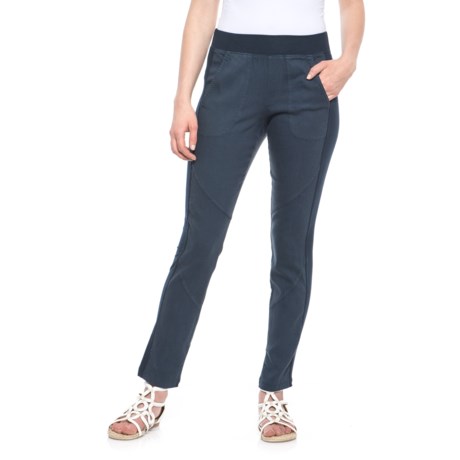 BEST PANTS EVER!
Reviewed by DEBDESIGNER from OCEANSIDE, CA on Saturday, May 20, 2017
I AM ORDERING 4 MORE PAIR OF THESE, MOST COMFORTABLE, ADORABLE, STYLIN', PANTS EVER! THEY MAY RUN A LITTLE LARGE FOR SOME, THOUGH THE PULL ON WAIST, STYLE, IS MOST FORGIVING, VERSATILE, IT WON'T REALLY SHOW, MATTER. I GOT SIZE LARGE, NORMALLY MY SIZE, OR 12/14. THE DIFFERENT FABRIC ON THE BACK OF THESE IS STRETCHY, ALL IS SOFT, WASH GREAT, SO COMFORTABLE!! I'VE READ OF THE BROWNISH COLOR PERHAPS BEING ODD LOOKING WITH THE TWO FABRICS NOT QUITE MATCHING, DON'T
CARE, ORDERING ANYWAY! I CAN SAY THAT THE "OIL WASHED NIMBUS" IS GORGEOUS, A DISTRESSED,
STONEWASHED, BLACK/CHARCOAL, GREAT COLOR GOES WITH EVERYTHING, GETTING 2 MORE IN THIS FABULOUS COLOR FOR WHEN THESE ARE DISCONTINUED, I HOPE THEY DON'T!! AND TRYING THE BROWNISH AND BLACK COLORS! I LOVE THIS MAKER, THEIR GREAT STYLES, HAVE ABOUT 6 PAIRS OF THEIR PANTS FROM STP, MANY TOPS, JACKETS! WITH STP PRICES MAKING THESE BUYS POSSIBLE GREAT PRICES! SELL FOR
30-50% MORE ELSEWHERE!

DON'T HESITATE ABOUT THESE, WORRY THAT SINCE THEIR ON CLEARANCE THEY'RE NO GOOD! THEY'RE THE
BEST FITTING, MOST COMFORTABLE, PANTS IN THIS BRAND, PERIOD, WITH "OIL WASHED NIMBUS" A COLOR ALL CAN USE, THROUGH ALL SEASONS. AND WITH PANTS BEING SUCH PROBLEM PURCHASES ONLINE,
THE SEMI "JOGGER STYLE" OF THESE, THE ELASTIC, AND CUTE, STYLISH, WAIST, LEG NARROWING
AT THE ANKLE, WILL SUIT ALL BODY TYPES, WITH THE LENGTH ABOUT 30-31" NOT A CONCERN WITH THEM
"BREAKING" AT THE ANKLE, OR TOP OF THE FOOT, WILL FIT TALLS, AND SHORTS FINE! YOU CAN ALSO TUCK INTO BOOTS WONDERFULLY, UNLIKE MOST PANTS THAT FEEL LIKE YOU'RE BOUND BY A TIGHT, UNFLEXIBLE KNEE, LEG, NOT ABLE TO SIT, EVEN SQUAT, MOVE, EASILY, THESE GIVE ASTOUNDING FREEDOM OF MOVEMENT WITH THIS GREAT IDEA OF THE VERY STRETCHY, NON SEE THROUGH, GOOD WEIGHT, FABRIC AT THE ENTIRE BACK! THIS BRAND IS CRAZY IF THEY ARE DISCONTINUING THIS STYLE THAT ALL WOMEN WILL BECOME ADDICTED TO! I SELFISHLY DIDN'T WANT TO WRITE MY REVIEW UNTIL SURE THAT I COULD GET MY ORDER!

SO GO FOR THESE, THEY WILL BECOME YOUR GO TO PANTS FOR EVERY OCCASION, I HATE HAVING TO TAKE THEM OFF!
Most helpful positive reviews
Most helpful negative reviews
Similar items and more information in the following areas: