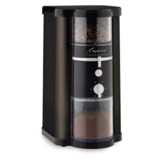 2nds. Perfect for grinding small batches of your favorite beans, Capresso's Disk Burr coffee grinder has 17 grind settings, an electronic timer and in an insulated safety lid to reduce noise.
Average Rating based on
13
reviews
3.307692
0
5
Reviewed by David from Colorado on Saturday, July 8, 2017

I've used this grinder daily for a few years now and haven't had any issues with reliability. The noise and cleanup are on par with other burr grinders. I do have two big issues with this one though:

1. The grind size is basically the same no matter how you dial it in. If you need sizes on either side of the spectrum (French press, espresso) don't buy this grinder.

2. The volume settings are extremely finicky. It took me a while to get it dialed in. If you brew different sizes of pots forget about this thing.

Verified Buyer

Reviewed by wasailor from pnw on Tuesday, January 12, 2016

exceeds my expectations,works better than my expensive grinder

Reviewed by dzinespace from los angeles on Saturday, December 12, 2015

Several cons....
1- Even at the finest grinding level, it still doesn't grind fine enough for our coffee maker
2- Constantly having a bean stuck in the grinder so that you need to take the time to swipe it out which is a messy job if half way through grinding
3- Takes up too much space
The only positive we found is that it allows a nice amount of beans to be stored in it.
Sending it back :(

Reviewed by Regina Falangee from Wyoming on Sunday, November 22, 2015

This is my first at home coffee grinder, however working as a barista for 6 years, I know when the calibration is off on the grind. Mine is off. I am planning on trying to recalibrating this but I am afraid to break it. It grinds well, I have no gotten an irregular grind but the coarse isn't coarse enough for French press and the fine is like powered sugar which it shouldn't be THAT FINE for espresso. This will be a trial and error sort of item, but well worth it to me for the price.
Side note; if you want to buy this item, you WILL HAVE TO CLEAN IT EVERY DAY! A grinder is a LOT OF WORK. You have to clean the grinder every day and make sure that there isn't anything in the way. If you do not know how to clean a coffee grinder, then get on Google and learn how. You will be upset with yourself when you find that a month later your grinder has stopped working because you didn't clean it as the instructions in the manual told you to do.

Reviewed by Coffee Lover from California on Monday, May 4, 2015

Every week I must spend 10 minutes cleaning this out by shoving a piece of wire up into the shoot the coffee falls through to keep it running. In one weeks time at least 1/2 cup of grinds get caught in there and if I don't clean it weekly, it clogs and fails to work.

On the days I'm not cleaning it I'm cleaning up after it. Removing the grind reserviour from the body of the machine causes grinds to spill and then taking off the lid causes grinds to fly for feet.

Verified Buyer

Reviewed by scotto from Seattle on Wednesday, December 31, 2014

While it worked, it worked quite well. But it only lasted four days, and now the motor freezes after only a couple rotations. Messed with cleaning, taking things apart, etc., to no avail.

Verified Buyer

Reviewed by Rhipsalis from NY on Sunday, November 30, 2014

Love it's compact design. The ground has a cover, so no mess as you open the container. The upper bean container looks small in the picture but actually holds more than you think. Smart design. Looks good on the countertop. Have used it for a few times so can't say about it's durability.

Reviewed by MsFleetwood from Virginia on Wednesday, November 12, 2014

Maybe everyone else got a bad batch of motors or something but my Capresso grinder (looks exactly like the picture here) has never failed me. And that thing has been toted to large week-long family gatherings with coffee-loving relatives, both caffeinated and de-caf, and had to grind for two and three pots all brewing at the same time. Not once have I had the problems others mentioned about the motor giving out or anything else. And I don't think I've taken any special care of it other than cleaning it out as needed. I've had my grinder for about 5 years.

Reviewed by Georgejt from Point Roberts on Thursday, March 6, 2014

Nice product

Reviewed by Driver from Utah on Sunday, October 27, 2013

Sorry but this grinder did not run for me after the second time I used it. I did not save receipt and this time I am sorry.