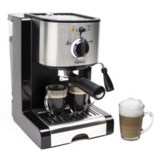 2nds, factory refurbished. Explore brewing your own specialty coffee drinks with the simple-to-use Capresso EC100 pump espresso and cappuccino machine. The Thermoblock heating system has 15 bar pump pressure and two sieves to produce two espressos at one time.
Average Rating based on
10
reviews
3.800000
0
5
Reviewed by PNWGirl from Portland, OR on Wednesday, November 4, 2015

This machine was okay in the beginning. It's not a super powerful machine and we were very careful to heat milk before frothing to try to limit the time the machine's running, but still, the coffee tasted great. We have a manual burr grinder and never changed the settings, yet sometimes the espresso machine would push a shot through too fast and it would be watery and other times it would drip, drip, drip so slowly that you'd have less then half a shot in the glass at 30 seconds(which is how long we'd let it run before turning it off out of fear of burning the motor out). I have no idea why the shots would press so differently, when the grind and tamp are all consistent. But that was still not a huge deal.
The big deal was that 7 months after getting the machine, it just wouldn't turn on one day. I have called and emailed Capresso and one person called me back and left me a message, but whenever I call back, I'm on hold for 25 minutes before they transfer me to voicemail. It's been a week of me calling and no other callbacks. There is a sticker on the bottom of the machine that says there is a one year warranty on it, but it doesn't seem like I'll ever get through. Maybe that's what I get for buying a refurbished machine.
At the time it seemed like a great deal, but because it broke after a short amount of time, I feel like it was a giant waste of money.

Verified Buyer

Reviewed by Cindylou from western NY on Tuesday, July 7, 2015

This machine makes a decent latte with no trouble. It's fast and easy to operate.

Verified Buyer

Reviewed by Judisu from North Carolina on Wednesday, March 18, 2015

This is a great little machine once you know what you are doing...Starbucks always did it for us.Still working on perfecting the steaming part.Great value for what it is and does.

Verified Buyer

Reviewed by Erica from California on Sunday, February 22, 2015

We had to download the instruction manual from the manufacturers website. After a few trials on our own, we went back to the tips provided in the owner manual and discovered our mistake. Great coffee, nice foamed milk, and looks nice on the counter. It is a bit of a hassle to clean after each cup made but not enough of a hassle to spend $600-$800+ more for an automated machine.

Reviewed by The Average Person from Massachusetts on Tuesday, January 6, 2015

I love my Capresso EC100...makes the best espresso ever.

Verified Buyer

Reviewed by Kitchen maid from Massachusetts on Sunday, December 28, 2014

..However, this machine makes a lovely crema, but the espresso looks like tea, with the finest espresso grind fresh coffee.
I am disappointed in overall taste of espresso
I do like that it has a water reservoir to make it easier to make multiple cups. I have followed trouble-shooting guide and I cannot improve the espresso flavor.

Verified Buyer

Reviewed by Arielita from AZ on Saturday, December 6, 2014

This is a nice little machine, simple to operate. It huffs and puffs and wheezes but churns out espresso that is way better than the coffee I used to drink. Very happy with it.

Verified Buyer

Reviewed by Eric the Shopper from Naples on Tuesday, December 2, 2014

The machine was missing one of the four feet, so it rocked. It was refurbished, but did not look like new. Sent it back and bought a new one for $10 more.

Verified Buyer

Reviewed by REF from Decatur, GA on Wednesday, April 30, 2014

Happy to have this espresso machine. I usually drink strong coffee! With the Capresso (constructed of stainless steel and sturdy composite plastic), I'm using half the amount of grinds for the same bold strong taste yet it makes a healthier cup than my old espresso maker which was lined with aluminum. All part edges are clean and precise, pieces fit perfectly level and the machine is under-the-counter size. The instant process is remarkable although it makes an unusual noise while the espresso pours. (I must read more on that process). Unlike most espresso makers, seconds after the espresso is in my cup, a self cleaning steam flush occurs emptying into a tray below a gridded plate. (I recycle that water into a plant watering pot.). I like the warming plate above the dispenser, keeping tools and an extra cup warm.

Reviewed by Caroline from Washington on Saturday, December 28, 2013

This was a Christmas present and I have used it several times for lattes, americanos, etc. It heats immediately, produces tasty espresso quickly, and heats the milk fairly quickly. Everything cleans up without a lot of hassle. I consider the Capresso a very nice addition to my kitchen.