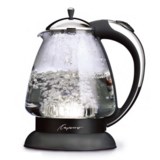 2nds, factory refurbished. The elegantly designed Capresso H20 Plus glass water kettle is a kitchen essential, boiling water faster and more efficiently than stovetop kettles.
Average Rating based on
8
reviews
2.875000
0
5
Verified Buyer

Reviewed by boiler from Boston on Friday, October 21, 2016

The Capresso H20 glass kettle is a bargain. Boils water much quicker then my previous electric kettle.

Reviewed by JPM from Ridgefield, CT on Monday, December 16, 2013

When heated, this kettle gives off a strong and offensive chemical odor that makes the water completely unfit for consumption. I tried heating multiple pots, some even with vinegar, but the odor did not go away. I suspect it's coming from a silicone used to seal and insulate the heating element. Too bad -- nice design and heats quickly.

Reviewed by Tara from Seward, AK on Monday, November 11, 2013

I've used this for a couple of weeks and it is working well. Nice styling. Just a bit smaller than my previous electric kettle. I'm on alert for the problems others have had, but so far so good!

Reviewed by Kate from Spring Grove IL on Friday, November 1, 2013

I bought this at a well known household items store just this past year. It lasted about a week before the lid came apart. It also had a tendency to not shut off at times and at other times wouldn't turn on with out fiddling with it. Piece of junk in my opinion.

Reviewed by Kaizen Mom from Honolulu on Sunday, October 20, 2013

After using the product for about 14 months, the kettle began leaching a metallic taste into the water. I tried cleaning with vinegar, but in retrospect, that would just get rid of mineral deposits, not the metallic taste. In any event, I threw the kettle away.

Reviewed by Mtn chica from Big Sky on Thursday, October 3, 2013

I've had this for about 2 years now. I use it daily and absolutely love it. I have heard complaints about possible leaching to the effect that it affects taste and odor. Mine has not had this problem, ever. I've heard some people say use activated charcoal to absorb the possible residue which may be present during first uses. But I've never had to. Aesthetically, it looks great. And it works great, too. Couldn't be happier.

Reviewed by Amber from Upstate NY on Sunday, September 15, 2013

We have this in our office full of tea drinkers, and have been using it about 10 times a day for almost two years. It boils water nice and fast, there's no weird taste/smell, and just looks nice. We do get mineral buildup on the metal heating element, but it cleans off easily (do it weekly and there'll be no buildup). I'm thinking of getting one for my kitchen to make certain tasks easier (like reconstituting broth concentrate, dried vegetables, instant Raman noodles, etc.).


Reviewed by TestDrive from California on Tuesday, June 18, 2013

I was somewhat skeptical on other's saying that this product adds plastic smell and taste to the water - well it does! Don't ignore it. The smell and taste was so strong, so I assume it will show toxic compounds if water to be tested in a lab. I rarely send products back - I did return this one! Until manufacturer puts all metal components on parts that interact with water (or vapors) don't even look at this product. Design was cool, but materials killed it!