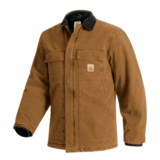 2nds. Carhartt's Arctic work coat has uncompromising quality stitched into every detail. Made of stout 12 oz. two-ply cotton sandstone duck lined with arctic-weight quilted polyester insulation, it delivers maximum warmth in demanding conditions.
Average Rating based on
315
reviews
4.631746
0
5
Verified Buyer

Reviewed by Elliott The Football player from Hawaii on Wednesday, March 15, 2017

I received the Carhartt Arctic Work Coat very quickly well packed. The arctic coat is a great looking work coat.
The exterior oily skin dark brown coat is looks good the the 2XL size is more on the large side on the shoulders looks a little
big. The rest of the coat is lined with warm interior and will keep you warm while working in extreme cold areas.
I am quite sure that this jacket will last thru outdoor work ,hunting, hiking, any activity in the wilderness. I would highly recommend this jacket to other to make purchase. I checked the online site and they don have XL jacket in stock. They are out
of any of this Arctic Work Coat. I will keep this jacket and wear it anyway even if it slightly big, don't want to return it and have
no Arctic work coat. Well sewn and strong material it has to offer the buyer,good protection in case of any situation oue may encounter.

Verified Buyer

Reviewed by lux from new jersey on Thursday, February 23, 2017

First of all the jacket is very cool looking and well made, but alas i could not make it work. I am 5'8 170 athletic build. The medium size was huge, almost laughable to big. The small was just alittle to small where i felt tension stretching my arms.
To bad cause i really wanted to make it work.. Carhartt has really different sizing with each jacket, i fit the Sandstone sierra size medium pretty good, it fits in the body great,but the arms are alittle bulky. The sandstone ridge coat i wear a small with only alittle restriction in movement.

Verified Buyer

Reviewed by farmer from PA on Saturday, February 11, 2017

This appears to be a heavy coat that will put up with varied and tough use on the farm. Sizing seems accurate.

Verified Buyer

Reviewed by Ag. Consultant from SC on Thursday, February 9, 2017

I first ordered a small (for tall men) based on the fit chart, I am rather slim, and while it was excellent fit in the chest and waist the sleeves were about 3 inches above my wrists. So I sent it back and ordered a medium (not tall). The medium fits excellently in terms of length, but the chest is way too broad for me.
I was looking for a slightly more business looking jacket to wear when meeting clients etc. but I guess I just have another awesome work coat since it adds about 100lb to my appearance.
Great quality as always, love my carhartt jackets. Not really sure why it was sold as a second, but I'll take it.

Verified Buyer

Reviewed by Backcountry Packer from Northern UT on Thursday, February 9, 2017

The quality of this coat is exactly what you would expect with the Carhartt brand. This is a very warm jacket... maybe too warm! I often would work up a sweat doing chores in 35 degree weather this winter wearing just this coat and a t-shirt.

Verified Buyer

Reviewed by John G from Winter in Michigan on Thursday, February 9, 2017

Carihartt coats speak for themselves; excellent products that last a lifetime. Sierra Trading Post customer care was exceptional in refunding/exchanging coats even after the 90 day return policy. Very happy with everything.

Verified Buyer

Reviewed by AcLaramie from Minnesota on Sunday, February 5, 2017

I bought this for my husband for a gift. You cannot tell this is a second and half the price I found in town. This is a replacement for almost the same coat he had for over 15 years. He said this coat is warm enough for the frozen hell here in MN.

Reviewed by Trish from Oklahoma on Sunday, February 5, 2017

Great price and quality. I love to save money.

Verified Buyer

Reviewed by Hiker Hank from Virginia on Saturday, February 4, 2017

Exactly what I wanted, no major defects, great price.

Verified Buyer

Reviewed by catman joe from connecticut on Thursday, February 2, 2017

this was a great buy offered by sierra trading post,I could not be more happy with my purchase and the price,My last coat lasted 12 years.

Verified Buyer

Reviewed by Tracy from Seattle on Thursday, February 2, 2017

My husband is very happy with this jacket. It has a trimmer fit that he likes while still leaving room for his shoulders to move without restriction as he works. The outer fabric is the expected Carhartt duck finish that will stand up to daily use as an electrician. The lining is a good looking plaid, though appears to be a synthetic. We thought we would receive a cotton flannel lining.

Verified Buyer

Reviewed by Trappa wife from Maine on Thursday, February 2, 2017

Fits well and is very warm which much needed when working outdoors in the northeast. This jacket also has multiple strategically placed pockets which are essential. I have owned Carhartt jackets for over 30 years and no other brand can take its place. The price was unbelievable here!

Verified Buyer

Reviewed by Mother of Happy Son from New York on Thursday, January 26, 2017

We gave this to our son as a Christmas gift four years ago. He loves it and as a result wears it all the time, even when he does blacktop work. Subsequently, he has gotten the jacket soiled. Fast forward four years and we purchased another one for him so that he'd have one for work and one for everyday. The second time around we purchased the incorrect (while we were not looking he's grown in four years ;-) ) size. Contacted customer service and my return was seamless.

Verified Buyer

Reviewed by Hank from Nevada on Tuesday, January 3, 2017

Nothing wrong with the coat. Perfect fit!

Verified Buyer

Reviewed by KB from MI on Thursday, December 29, 2016

Nice jacket at a great price. Fit is true to sizing.

Verified Buyer

Reviewed by Petrichor from OHIO on Thursday, December 29, 2016

Gift for son, he loves it.

Verified Buyer

Reviewed by mh from chicago on Wednesday, December 28, 2016

Love the coat but I needed a tall.

Verified Buyer

Reviewed by Wood hauler from Michigan on Tuesday, December 27, 2016

Very happy with the product, price and delivery! Will definitely shop sierra trading post next time I'm looking for work wear!

Verified Buyer

Reviewed by Snowqueenvt from Vermont on Tuesday, December 27, 2016

I have bought this exact jacket before and it seems that this one is built like a square. My husband did not return it because the 56.00 price was utouchable. He is rather long torsoed but this jacket does not fit as it should regardless. The length falls shorter than it looks in the picture and the arms are short. When compared to the same jacket it is shorter. He wears an XL to an XXL. this was true of the XXL. Material is of course awesome and the quality of the jacket is well made.

Verified Buyer

Reviewed by Gmom from NJ on Tuesday, December 27, 2016

Ordered for my son on law. He loves it! He works outside and wanted a warm coat. Couldn't beat the quality of a carhartt

Verified Buyer

Reviewed by slick from oklahoma on Monday, December 26, 2016

these guys must be a whole lot more finicky than I am . this coat is perfect as far as I can see .and like all my other carhart products , i'm sure it will last forever . you can't go wrong with these coats ----excellent product

Verified Buyer

Reviewed by George from NJ on Saturday, December 24, 2016

I am very pleased with the coat! I know its a second but I do not see anything wrong with it! Can't bet the price! Its plenty warm!

Reviewed by Petrichor from Ohio on Saturday, December 24, 2016

Bought for my son for Christmas, he loves it, sized as expected, and it is really very warm.

Verified Buyer

Reviewed by Scott from Upstate NY on Friday, December 23, 2016

I have been wearing a medium size Carhartt jacket that i inherited from my father - sort of a classic - already had been well worn by my father for several years working outside around his country property - not sure of the style, but a button front and blanket material lining. I love this jacket and still wear it often, but wanted something a bit nicer for everyday work. Because the medium i have is just a little big on me, and these jackets have a reputation to be a bit big and bulky, i bought this in a small. I kept it, but I should have bought a medium. I am 5'8" and 140#, but have very long arms, and this small is tighter than i would like, and sleeves are short, but it fits better in the waist than a medium would, and I am hoping with wear it will stretch out a bit in the shoulders and back to be more comfortable. I had read a previous review on this site where it was mentioned by an owner of one of these that he immediately cut the sleeve cuff elastic out of the arms - thanks to him for that comment - i completely agree, i cut mine out also as soon as I received it and it immediately felt so much better in the arms. I do love the color and fabric and look. It is a classic coat, my only caution for a buyer is to consider what kind of fit you want - if you plan to wear a hoodie under it, or other bulky layers, buy it large enough so you will not feel it tight on you as you move in it to work etc. I do think it is well worth the $$ and a good value - will last for many years of heavy use.

Verified Buyer

Reviewed by Gb from Detroit on Monday, December 19, 2016

I had a great experience with my first purchase from sierra trading post. The coat us warm and exactly what we wanted. Shipping was prompt and arrived one day ahead of schedule.

Verified Buyer

Reviewed by shamus from Minnesota on Wednesday, December 14, 2016

Not real thick, but it is still very warm. Good in below 0 weather.

Verified Buyer

Reviewed by saltydog from NYC on Friday, December 9, 2016

a tough winter jacket. Carhartt makes a good product and this jacket is the perfect example. warm and very strong.

Verified Buyer

Reviewed by Janine from Massachusetts on Tuesday, November 15, 2016

My son really loved this. He just started his first full time construction job. It will definitely get its full use.

Verified Buyer

Reviewed by Jimmy from Maine on Thursday, September 29, 2016

This is my second arctic work jackett, they are tough and extremely warm.

Verified Buyer

Reviewed by Ronda from Vermont on Tuesday, September 20, 2016

Carhartt fits so well and is great quality!!