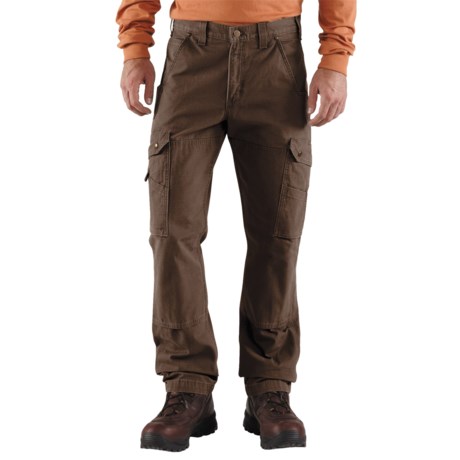 Yes. On the right as you face a person wearing them.

Yes,

Yes.



The pants have numerous pockets which will fit my flip phone and I have carried my in the pockets. I have no knowledge as to whether the pants have a pocket specifically designed for a cell phone. I like my pants and wear them often.

in addition to the normal front and back pockets there are are two cargo pockets and several,other smaller pockets some that snap closed. However the pockets that are typical cell phone size would be risky to carry a phone. Phone size would matter.

There's about 20 pockets you could put your cell phone in on these pants. I just use the large cargo pocket on the left. I have four pairs of these pants. They are super comfy, hold up to wear, and look good.

On the right side, there is a divided pocket over the main cargo pocket, and the center one has a snap closure. Some phones will fit. The left side has an open slot pocket over the main cargo pocket. You also have regular front pockets that are quite deep. I'm sure you can find somewhere to stick your phone.

Not for any smart phone I know of. I do carry an iPhone 6, wallet, keys, pens sunglasses and a Leatherman and still have both rear pockets empty however.

I didn't know how to post my gratitude for the resounding response to my question, so this will have to do. THANK YOU to you all for your lightning fast, descriptive, helpful replies. I so appreciate each of you!


I'm not sure if Carhartt calls it a cell phone pocket, but yes there are definitely options for carrying any size cell phone.
I own an Iphone 6plus, and it fits perfectly in the outer pocket which is stitched to the outside of the left cargo pocket.
It does seem like this pocket was designed for a cell phone. The phone sits directly above your left knee when in this pocket.
80% of the phone fits snuggly into the pocket, with the top 20% sticking out so its easy to grab.
The width of the pocket fits my 6plus perfectly, so smaller phones should also fit.
At other times I use the left rear pocket which is very wide & deep, so the entire phone fits inside.
Both left & right cargo pockets would also work. So essentially you have 4 options.
My only issue with the pocket is it sits directly above my knee cap. The bottom of the phone actually touches my knee cap as I walk.
It does not inhibit walking, but you will notice it. If I was climbing a ladder, I would move the phone to one of the cargo pockets or to my rear pocket to prevent the phone hitting the ladder rungs as I climbed. If I were redesigning the pants I would move this pocket to the lateral side of the leg, and have it sit slightly higher than its current location. I hope this helps your decision.


There's pockets all over these pants. His casio gzone smart phone will fit in one side pocket, but not my droid maxx. It would also fit most flip phones. But there are two other button pockets that are real big that would hold the phone no problem, but wouldn't want to have to unbutton it. Could leave one button unbuttoned and still get to phone but not easy access as you would have to lean over to reach it. But the many pockets are nice and the pants are definitely comfortable.

-Yes, but the outer pocket that was perfect for my old cell phone is too small for my new one, which now has to ride in the big main pocket...

yes, they do have a cell phone pocket

Yes, Kitty, they do. Right Leg patch pocket has a buttoned pocket for a cell phone, mine fits even with a case. Don't expect to put a larger "phone"/pocket PC in though. Also, the phone hits the side of my knee at just a spot where it chafes a bit. Might not be a problem for you.

I guess it would depend on the size of your phone. There is a pocket inside the front right pocket that will hold my phone but I don't have an iPhone that is bigger than the ipad! lol There is also a pocket on the outside of the cargo pocket on the left leg. Once again, my phone fits nicely in it but it is a basic phone and will depend on the size of phone you have. Other than that, they have very roomy front pockets and nice sized cargo pockets if you have a large phone.

To have dedicated cell phone in today's market would be hard to do. Due to the various cell phone sizes. I use one of the large cargo pockets on either side as a cell phone pocket. this way I don't have to worry about a new phone fitting in the pocket.

yes, on the left thigh

There is a open top pocket on the outside of the left cargo pocket that might work. It looks to be about 2x4+ inches. The cargo pockets would also work.

There are several pockets that will hold a cell phone. Even my Kindle fits. THey are good and deep too.