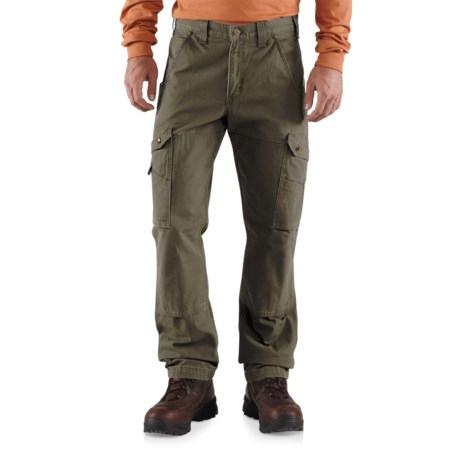 I bought a pair of 42x32 and they needed to be hemmed. I then bought two pairs of 40x32 and they fit true to size... 38x32 is next

We did not buy the shorts but we do find that the pants are true to size. My husband is a size 40 and these fit him. I hope that answers your question.

Mine have always been right on.

I dont have a pair of the shorts, but the pants I ordered in my exact size and they fit just right. 38x30.
They are very heavy duty, by the way.

I bought the pants for my husband, who is a very big guy, and they fit true-to-size for him. Never got the shorts, though, so I can't make a comparison.

My larger size pair (40 waist) fit well and seemed pretty true to size.

I got these for my husband a few months ago. he thought they ran too small for him. I would order 1 size up

My regular size fits true size .

My experience with Carhartt is that they all run small, but if you find the Carhartt number that fits, it generally fits across the product line.

My guys found they wear their normal size, but the pants are not relaxed fit, per se. HTH.