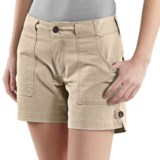 2nds. Versatile, durable and comfortable, Carhartt's cotton twill shorts deliver everything you want in warm-weather casual wear.
Average Rating based on
12
reviews
3.833333
0
5
Verified Buyer

Reviewed by Kayo from PA on Sunday, May 18, 2014

As indicated by other reviewers, these shorts have an unusual fit, but that doesn't mean you shouldn't try them. You might have the body they fit--you don't know until you try. These shorts have a short rise and they fall low on the waist so I think possibly if your hips are wide and you have an ample backside, these might not be the shorts for you. The fabric is really good and the general styling (pocket placement and nice buttons on the sides of the legs) is cute for hiking shorts. I lucked out with these--I'm shapely, but not too hippy and I don't have much of a butt so they fit okay--I do have better fitting shorts (and worse fitting shorts).

Verified Buyer

Reviewed by Marla from California on Sunday, April 6, 2014

Good fit, true size. Ya can't beat cotton for comfort

Reviewed by Terry in the Fort from Colorado on Friday, March 14, 2014

These shorts are tough! They fit well and will last me several years. I plan to wear them for hiking but I'm sure I'll wear them around town this summer too.

Reviewed by Weekend Farmer from Greensboro, NC on Tuesday, March 4, 2014

I usually wear a 14 in Wrangler ladies, so when I read earlier reviews that these run big for a 14, I thought they would work. Not quite......I couldn't even get them buttoned. I had to return them.

Reviewed by Anonymous from Northern California on Friday, November 15, 2013

The only thing I regret is that I didn't see these shorts in the beginning of summer. They fit well and look great if you want short shorts. The side buttons are a nice touch and very well made. I don't see why they're "second".

Reviewed by Anonymous from Elk City, OK on Thursday, November 14, 2013

My wife likes her 1st pair of Carhartt shorts. Runs a size large. 100% cotton Carhartt quality.

Reviewed by Martha from New York on Tuesday, September 17, 2013

The shorts were not flattering for me as they were a bit tight around the leg.

Reviewed by k9tchr from NH on Saturday, September 14, 2013

Well made shorts in shorter length than other carhartts. ( better for women ).

Reviewed by woodworker from New Hampshire on Wednesday, September 11, 2013

Some reviews suggested sizing up but I think they fit as expected. They do sit a bit below the waist and the waist band is sized for the hips, not the smaller waist. I got them a size up and wear a belt with them but like the roomy fit. If you prefer non-baggy, fitted clothes I recommend you get your normal size. The material is soft - brushed, I think - and pliable, the tan color is just dark enough so it doesn't show dirt. The length is slightly shorter than most shorts these days but by no means too short and the details look nice. I'll get lots of use out of these!

Reviewed by Uninitiated from New York City on Thursday, September 5, 2013

At no time did I realize I was buying IRREGULAR CLOTHING when I stumbled onto this website for the first time in search of some Carhartt shorts in my color and size which I had tried on recently at a hardware store up in the Adirondacks but did not have what I wanted.

Sierra Trading says NOTHING about selling IRREGULAR CLOTHING on their home page,which is where it should be clearly stated. It was not disclosed to me on the product page nor did the customer service representative who helped me place my order ever mention this fact as well. As a result, I purchased IRREGULAR CLOTHING without being aware of it.

The only way I discovered this was when I opened the box and Carhartt itself-- not Sierra Trading - disclosed this important fact on its own tags. There was still NOTHING from Sierra Trading, for example, on the bill.

I called up Sierra Trading and got a very defensive sounding rep who said that I should have known that the "2nd" in tiny writing on the bottom of the product page means irregular clothing. HOW would I know that?

I then spoke with the supervisor who was at a loss to point to anywhere on the home page where this information is clearly disclosed to prospective customers. She tried to advance the argument that "Great Deals. Great Brands" means irregular clothing but quickly abandoned that point. Then she tried to promote the "2nd" argument on the product page, pointing out that I need to click and hover in order to get the disclosure, but gave up on that point as well. She got that there is a questionable Truth-in-Advertising issue here.

I did and do not know that "2nd" is code for irregular clothing and genuinely did not know that Sierra Trading was an irregular clothing site.

However, after I shared my dismay, disappointment and disgust, because I felt like I had been duped, and hung up, I did try on the clothing and it seemed okay. I am still deciding whether I am going to keep it, but there did not seem to be anything obviously or noticeably wrong.

I am not a "2nd" or irregular clothing buyer and do not plan on becoming one in the future, but I see better now, based upon this one experience with Carhartt irregular items, why there can be a market for this type of clothing.

JUST PLEASE TELL YOUR CUSTOMERS FIRST BEFORE THEY BUY IT. Is that too much to ask?