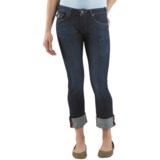 2nds. Legendary durability gets a cute makeover in Carhartt's Curvy-Fit Denim cropped pants, made of 9.5 oz. cotton/spandex denim in a distinctively feminine silhouette.
Average Rating based on
17
reviews
3.000000
0
5
Reviewed by Kim from NePA on Saturday, December 28, 2013

these are very nice capris for the price.

Reviewed by debbie the soon to be retired from ohio on Friday, December 27, 2013

I have been buying Carhartt for year for "the boys" in my family but not for myself. These pants are awesome, well made and stylish enough I can wear them for many different occasions.

Reviewed by Pine Hiker from Pine, CO on Thursday, November 7, 2013

The red stripe at the bottom of these pants really make them very ugly. And the pants sit way to low on the hip. These were returned, for sure.

Reviewed by Pine Hiker from Pine, CO on Friday, October 25, 2013

The red stripe at the bottom of these pants are nasty ! And it sits so low on your hip, it's uncomfortable. These were returned. I love hip hugging pants, but not pants that barely cover my crotch...don't waste your money on these.

Reviewed by SwimTaxiMom from Oregon on Wednesday, October 9, 2013

Excellent fit for a 45yr+ mother of two.

Reviewed by norcal girl from no. Ca on Thursday, September 5, 2013

I am tall and have a boyish figure, and these fit pretty well. They have a little extra room in the hips but still fit fine. I have Carhartt jeans that I like the fit of, and these are very similar. The lenghth is nice, a little longer than a capri but shorter than pants. For the price I paid they would have been a deal even if I only wore them once!!

Reviewed by Steelhead Girl from Boise on Wednesday, June 26, 2013

Although they are a little more low cut that I'd prefer, these pants fit me just fine.
I am a size 12, sometimes a size 14 - but the 12 fits me fine. I'm definately not skinny or slim-hipped but I also don't have a J-Lo butt either.
I think they are very comfortable - so much that I've ordered a second pair.
I like that the cuffs are stitched up so they don't flop down.

Reviewed by Anonymous from Houston, TX on Tuesday, June 25, 2013

You must have a large waist and long legs for these to fit. Be aware they are faded and "wrinkled" at the bend of the leg at the hip and are at least 3" below the navel. My legs are short, 29" inseam, so I expected them to be long, but they are full length on me, size 10. These went back. The waist gapped badly.

Reviewed by Jason from NV on Tuesday, May 14, 2013

Every pair of Carhartt jeans I've bought has fit perfectly---expect these strange cropped pants. The rear had no room, the crotch area was super small and the legs were for pencil thin figures. Seriously, one would have to a barbie doll to wear these (no butt or hips). I ordered a size 12, the tag said size 12, but in reality these were a 4-6 size.

Reviewed by Davis from Pa on Monday, May 13, 2013

Cute looking, well-made jeans but small in sizing. I'm a curvy 12 in Levi's and the price was worth the risk even after reading the other reviews. The waist is too small for being as low as it is. If they were comforfortable to button I'd still would have had "plumbers butt" even while standing! Very tight all the way down the leg until just below the knee. A little odd. The weren't awful just not for this curvy gal! Just did not work for me.