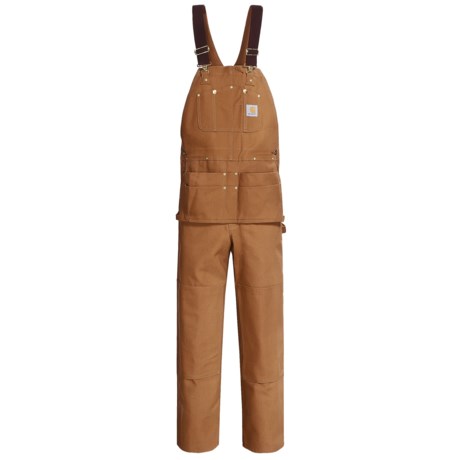 Heavy duty--seconds IS noticeable
Reviewed by Norwegian Who Would from Portland, OR on Tuesday, July 15, 2014
I'm used to standard Carhartt overalls, lined and unlined, so I thought I'd try these even though I'm not a carpenter. Mine arrived and are the same heavy-duty fabric, same multiple-pocket glory...everything you'd expect from Carhartt. Except:

These have a built-in carpenter's apron in front, which hangs from mid-chest down to groin-ish area (depending on your height). Fine, as expected, except each bottom corner of this apron front has a tab that has a snap on the end. I know on the usual copies of these the snap is supposed to snap INTO something, a snap located somewhere around the pocket, to keep the apron from hanging there and potentially swinging around, depending on what you've loaded the pockets with.

But the other half of the snap is not there, so the apron does just...hang there.

I'm inclined to put in the other half of the snap (the "male" half of the snap for those in the know) with my snap-installing tool rather than returning these cool overalls (especially since they're sold out). It does require some special skills and ideally a special tool.

But if items are seconds, I'd appreciate a description of the flaw (or possible flaws). I can imagine that this problem would be disappointing and off-putting to many customers, especially those who don't like installing their own snaps. I even think letting the apron hang down could be a safety hazard.

Wear these in good health and safety--in every other way I could discern, they're the same old Carhartt quality.

Most helpful negative reviews
Similar items and more information in the following areas: